LOCH LOMOND
A view on the lakeshore at Balloch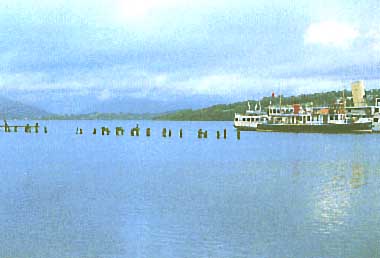 Photo: A. Kurata
A. LOCATION
Scotland, UK.
56:05N, 4:35W; 7.9 m above sea level.
B. DESCRIPTION
Of glacial origin, Loch Lomond is probably the best known Scottish lake and is the most southerly of the five Scottish lakes considered in this report. Its main axis is north to south and maximum length of 36.4 km. The northern portion of the lake is long (22.3 km) and narrow (average just over one kilometer), but south of Ross Point it opens out and reaches a maximum width of 8.8 km. This part of lake contains many islands. The surface area of the lake is 71.1 km2 - larger than any other British standing water, the nearest rivals being Loch Ness (56.4 km2) and Loch Awe (38.5 km2). The maximum depth is 189.9 m (the third deepest in Scotland) but the mean depth is only 37.0 m, because of the influence of the large shallow southern basin. The volume of Loch Lomond is 2,627,900,000 m3, greater than any other lakes except Loch Ness. There are two distinct basins deeper than 30 m in the lake, one in the south of the Douglas Water delta and one in the north and these are known to have quite distinct characteristics.
Loch Lomond's catchment is characterized by a relatively low mean altitude and gentle slopes with a high percentage of arable ground and base-rich rocks. There are far more roads than in any of the other catchments and relatively high population. The extent of arable ground and base-rich rocks gives a good indication of the potential natural richness of the lake waters draining from them. The lake, or certainly its south basin, seems likely to be the richest, comparing with the other four Scotland lakes. The lake exhibits a dimictic circulation and is rated oligotrophic in respect of chemistry, phytoplankton and macrophytes, but mesotrophic in terms of invertebrates and fish (1, 2, 4, 10).
C. PHYSICAL DIMENSIONS (1, 2, 10)
| | |
| --- | --- |
| Surface area [km2] | 71 |
| Volume [km3] | 2.6 |
| Maximum depth [m] | 189.9 |
| Mean depth [m] | 37.0 |
| Water level | Regulated |
| Normal range of annual water level fluctuation [m] | 2.0 |
| Length of shoreline [km] | 153.5 |
| Residence time [yr] | 1.9 |
| Catchment area [km2] | 696 |
D. PHYSIOGRAPHIC FEATURES
D1 GEOGRAPHICAL (2)
Bathymetric map:

Fig. EUR-28-01.
Names of main islands: The area of island is 0.269 km2.
Number of outflowing rivers and channels (name): 1 (R. Leven).
D2 CLIMATIC
Climatic data at Achnashellach (3)*
Mean temp. [deg C]
Jan
Feb
Mar
Apr
May
Jun
Jul
Aug
Sep
Oct
Nov
Dec
Ann.
2.8
3.2
5.2
6.9
10.1
12.4
13.8
13.6
11.6
8.7
5.7
4.1
8.2
Precipitation [mm]
232
177
127
156
93
114
148
150
189
234
196
242
2,058
* 13-year mean.
Number of hours of bright sunshine: 1,374 hr yr-1.
Fig. EUR-28-01
Bathymetric map (2).
Water temperature:

Fig EUR-28-02.
Fig. EUR-28-02
Water temperature [deg C](2).
Freezing period: Occasionally (2).
Mixing type: Monomictic (2).
E. LAKE WATER QUALITY
E1 TRANSPARENCY [m](6)
November 1977 and October 1978: 4.20-6.75.
E2 pH (4)
1977
Depth [m]
Jan
Feb
Mar
Apr
May
Jun
Jul
Aug
Sep
Oct
Nov
Dec
0-10
-
-
-
-
-
-
-
-
-
-
6.2
6.8
1978
0-10
-
6.8
6.9
-
6.6
6.7
6.9
6.7
-
6.7
-
-
E6 CHLOROPHYLL CONCENTRATION [micro g l-1]: Fig. EUR-28-03.
Fig. EUR-28-03
Fluctuations in the concentration of chlorophyll a. Values refer to the integrated 0-10 m column at open water site (5).
E7 NITROGEN CONCENTRATION: Fig. EUR-28-04.
Fig. EUR-28-04
Fluctuations in the concentrations [micro g l-1] of NO3- and NO2-N in the uppermost 10 m of the water column (4).
E8 PHOSPHORUS CONCENTRATION (4)
PO4-P [micro g l-1]

November 1977-October 1978: <10.
F. BIOLOGICAL FEATURES
F1 FLORA
Submerged macrophytes (6)

Isoetes lacustris, Littorella uniflora, Nitella opaca, Fontinalis antipyretica, Lobelia dortmanna.
Phytoplankton (5)

Melosira islandica, M. italica subsp. subarctica, M. granulata, Asterionella formosa, Tabellaria fenestrata v. asterionelloides, T. flocculosa, Cryptomonas spp., Mallomonas spp., Rhodomonas minuta, Gymnodinium helveticum.
F2 FAUNA
Zooplankton (7)

Bosmina coregoni, Polyhemus pediculus, Bythotrephes longimanus, Leptodora kindti, Diaptomus gracilis, Cyclops abyssorum, Diaphanosoma brachyurum, Holopedium gibberum, Daphnia hyalina, Cyclops leuckarti.
Benthos (8)

Stylaria lacustris, Ecdyonurus venosus, E. dispar, Ephemerella ignita, Diura bicaudata, Chloroperla torrentium, Tinodes waeneri, Lepidostoma hirtum.
Fish (9)

Coregonus lavaretus, Petromyzon marinus, Lampetra fluviatilis, Salmo salar, Esox lucius, Rutilus rutilus, Noemacheilus barbatulus, Pungitius pungitius, Perca fluviatilis, Platichthys flesus.
F4 BIOMASS (7)
Zooplankton:

Fig. EUR-28-05.
Fig. EUR-28-05
Seasonal abundance of total zooplankton [1,000 individuals m-3].
F5 FISHERY PRODUCTS (10)
Annual fish catch [individuals]
1971-1985
Salmon/grilse: 318.
Sea trout: 1,744.
Brown trout: 148.
F6 PAST TRENDS (10)
The mean annual numbers and the mean weights of fish caught
Salmon/grilse
Sea trout
Brown trout
No.
Wt. [kg]
No.
Wt. [kg]
No.
Wt. [kg]
1956-1960
460
4.0
1,838
0.8
460
0.4
1961-1965
755
4.1
2,881
0.8
1,029
0.2
1966-1970
837
4.5
3,069
0.8
837
0.2
1971-1970
592
4.1
2,716
0.8
568
0.3
1976-1980
176
3.3
1,095
1.0
253
0.5
1981-1985
186
3.1
1,421
1.0
148
0.6
G. SOCIO-ECONOMIC CONDITIONS
G1 LAND USE IN THE CATCHMENT AREA (1)
1978
Area[km2]
[%]
- Natural landscape
Woody vegetation
76.7
11.0
Rough
481.5
69.2
- Agricultural land
116.0
16.7
- Residential area
10.8
1.6
- Others
10.5
1.5
- Total
695.5
100.0
G3 POPULATION IN THE CATCHMENT AREA (10)
1975
Population
Population density [km-2]
Major cities (population)
Total
12,218
17.6
None (18,000 tourists during summer season)
H. LAKE UTILIZATION (10)
H1 LAKE UTILIZATION
Source of water, navigation (ferries), tourism and recreation (swimming, sport-fishing, yachting, cruising, rowing, canoeing).
H2 THE LAKE AS WATER RESOURCE
1988
Use rate [m3 Sec-1]
Domestic
2.0
Industrial
1.0
I. DETERIORATION OF LAKE ENVIRONMENTS AND HAZARDS (4)
I1 ENHANCED SILTATION
I2 TOXIC CONTAMINATION
Present status: Not detected.
I3 EUTROPHICATION
Nuisance caused by eutrophication: None.
I4 ACIDIFICATION
J. WASTEWATER TREATMENTS (1, 10)
J1 GENERATION OF POLLUTANTS IN THE CATCHMENT AREA
c) limited pollution with wastewater treatment.
J3 SANITARY FACILITIES AND SEWERAGE
Municipal wastewater treatment systems

No. of municipal wastewater treatment systems: 17.
Industrial wastewater treatment systems

No. of industrial wastewater treatment systems: 2.
L. DEVELOPMENT PLANS (10)
A comprehensive development plan was produced in 1982 by the Loch lomond Planning Group. This plan was adopted in August, 1986 by the four local authorities involved and now awaits central government commitment to the financial implications.
M. LEGISLATIVE AND INSTITUTIONAL MEASURES FOR UPGRADING LAKE ENVIRONMENTS (10)
M3 RESEARCH INSTITUTES ENGAGED IN THE LAKE ENVIRONMENT STUDIES
Clyde River Purification Board
Central Scotland Water Development Board
North of Scotland Hydro-Electric Board
University of Glasgow
University of St. Andrews
Loch Lomond Angling Improvement Association
Loch lomond Association
The Friends of Loch Lomond
N. SOURCES OF DATA
Maitland, P. S. (1981) Introduction and catchment analysis. The Ecology of Scotland's Largest lochs, Lomond, Awe, Ness, Morar and Shiel (ed. Maitland, P. S.), pp. 1-27. Dr. W. Junk Publishers, The Hague.
Smith, I. R., Lyle, A. A. & Rosie, A. J. (1981) Comparative physical limnology. Ibid., pp. 29-65.
Muller, M. J. (1982) Selected Climatic Data for a Global Set of Standard Stations for Vegetation Science. 306 pp. Dr. W. Junk Publishers, The Hague.
Bailley-Watts, A. E. & Duncan, P. (1981) Chemical characterisation, a one-year comparative study. The Ecology of Scotland's Largest Lochs, lomond, Awe, Ness, Morar and Shiel (see above), pp. 67-89.
--- (1981) The phytoplankton. Ibid., pp. 91-118.
--- (1981) A review of macrophyte studies. Ibid., pp. 119-134.
Maitland, P. S., Smith, B. D. & Dennis, G. M. (1981) The crustacean zooplankton. Ibid., pp. 135-154.
Smith, B. D., Maitland, P. S., Young, M. R. & Carr, M. J. (1981) Ibid., pp. 155-203.
Maitland, P. S., Smith, B. D. & Adair, S. M. (1981) The fish and fisheries. Ibid., pp. 223-251.
Hamilton, J. D. (1988) Verh. Internat. Verein. Limnol., 23: 403-413.