LAC LEMAN (LAKE OF GENEVA)
A view on the lakeshore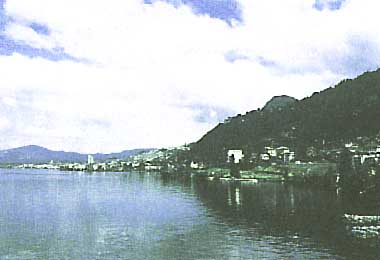 Photo: Shiga Prefectural Government
A. LOCATION
Vaud and Valais, Switzerland; and Haute-Savoie, France.
46:12-46:31N, 6:10-6:56E; 372 m above sea level.
B. DESCRIPTION
Lake of Geneva is shared by Switzerland along the northern shore and France along the southern shore. Geneva, the city of international politics and tourism, is located at the west end of this semilunar lake, while the well- known resort town of Montreux is at the east end. In-between these cities, Lausanne, a cultural centre of western Switzerland, is on the northern shore, and Evian, a town famous for its superior mineral water, is situated in the middle of the southern shore. The climate is gentle with mild winters and comfortable summers, and the surrounding area is particularly known for the well-managed picturesque scenery and resorts set among this natural splendor.
The Rhone River flows southward from the west end of the lake to the Mediterranean Sea. The lake is deep and has a comparatively large water volume for its surface area. The drainage basin is also fairly wide, including about a half of the Walliser Alps and the Berner Alps. Therefore, nutrient loading from natural sources is more or less equivalent in amount to that from industrial and domestic waste water. The dissolved oxygen concentration in the bottom water as well as the transparency has been dropping in recent years. These measurements clearly indicate the progress of eutrophication in the lake. At present, approximately 700,000 people get drinking water from the lake, so that the water quality is under strict legal control by the cantons surrounding the lake.
C. PHYSICAL DIMENSIONS (Q1)
| | |
| --- | --- |
| Surface area [km2] | 584 |
| Volume [km3] | 88.9 |
| Maximum depth [m] | 309.7 |
| Mean depth [m] | 152.7 |
| Length of shoreline [km] | 167 |
| Residence time [yr] | 11.8 |
| Catchment area [km2] | 7,975 |
D. PHYSIOGRAPHIC FEATURES
D1 GEOGRAPHICAL
Bathymetric map: Fig. EUR-07-01.
Names of main islands: None (1).
Number of outflowing rivers and channels (name): 1 (Rhone R.)(Q1).
D2 CLIMATIC
Climatic data at Geneva, 1931-1960 (2)
Mean temp. [deg C]
Jan
Feb
Mar
Apr
May
Jun
Jul
Aug
Sep
Oct
Nov
Dec
Ann.
1.1
2.2
6.1
10.1
14.1
17.8
19.9
19.1
15.8
10.3
5.7
2.1
10.3
Precipitation [mm]
63
56
55
51
67
89
64
94
99
72
83
59
852
Number of hours of bright sunshine: 2,036 hr yr-1 (2).
Solar radiation: 11.42 MJ m-2 day-1 (Q1).
Fig. EUR-07-01
Bathymetric map (1).
Water temperature [deg C](Q1)
1968-1969
Depth [m]
Jan
Feb
Mar
Apr
May
Jun
Jul
Aug
Sep
Oct
Nov
Dec
S*
5.9
5.4
6.5
18.9
13.0
16.0
20.4
19.8
18.3
15.7
11.3
7.2
* Surface.
Freezing period: None (Q1).
Mixing type: Monomictic.
E. LAKE WATER QUALITY
E1 TRANSPARENCY: Fig. EUR-07-02.
Fig. EUR-07-02
Transparency [m] at Grand Lac, main basin (3).
E4 DO: Fig. EUR-07-03.
Fig. EUR-07-03
DO [mg l-1] at Grand Lac, 1978 (1).
E6 CHLOROPHYLL CONCENTRATION: EUR-07-04.
Fig. EUR-07-04
Chlorophyll a concentration [micro g l-1] in the trophogenic layer, 1976 (1).
E7 NITROGEN CONCENTRATION: Fig. EUR-07-05.
Fig. EUR-07-05
Nitrogen concentrations [mg l-1] at Grand Lac, 1982 (3).
E8 PHOSPHORUS CONCENTRATION
Fig. EUR-07-06
Time-depth distribution of Total-P [micro g l-1] at Grand Lac, 1978 (3).
E10 PAST TRENDS (3)
Chlorophyll a [micro g l-1]
| Depth [m] | 1976 | 1977 | 1978 | 1979 | 1980 | 1981 | 1982 |
| --- | --- | --- | --- | --- | --- | --- | --- |
| 0-10 | 7.3 | 4.7 | 4.9 | 4.8 | 4.7 | 7.5 | 5.2 |
Fig. EUR-07-07
Trend of transparency [m](4).
Fig. EUR-07-08
Trend of DO [mg l-1] at 300 m depth (4).
Fig. EUR-07-09
Trend of NH4-N concentration [mg l-1](1).
Fig. EUR-07-10
Trend of NO3-N concentration [mg l-1](1).
Fig. EUR-07-11
Trend of Total-P concentration [mg l-1](1).
F. BIOLOGICAL FEATURES
F1 FLORA
Emerged macrophytes (Q1, 5)
Phragmites communis, Typha latifolia, Schoenoplectus lacustris.
Floating macrophytes (Q1, 5)
Potamogeton nodosus, Nymphaea alba, Nuphar luteum, Polygonum amphibium.
Submerged macrophytes (Q1, 5)
Potamogeton pectinatus, P. perfoliatus, P. lucens, Zannichellia palustris, Myriophyllum spicatum.
Phytoplankton (3, 6)
Asterionella formosa (dominant period in 1982: January-June), Synedra acus (May), Ceratium hirundinella (July and September), Melosira binderana (September), Fragilaria crotonensis (August), Oscillatoria rubescens (October, November and end of December), Aphanizomenon flos-aquae (end of October, Beginning of December).
F2 FAUNA
Zooplankton (7)
Keratella cochlearis, K. quadrata, Notholca caudata, Epistylis lacustris, Synchaeta pectinata, Daphnia longispina.
Benthos (1)
Polycelis tenuis, Dugesia tigrina, D. lugubris, Dendrocoelum lacteum, Dreissena polymorpha, Asellus aquaticus.
Fish: Perca fluviatilis, Coregonus sp., Salmo trutta, Lota lota (Q1).
F3 PRIMARY PRODUCTION RATE: Fig. EUR-07-12.
Fig. EUR-07-12
Primary production rate in the trophogenic layer, 1976 (1)
F5 FISHERY PRODUCTS (Q1)
Annual fish catch [metric tons]
1982: 347.9.
F6 PAST TRENDS (3)
Primary production rate [g C m-2 yr-1]
| 1976 | 1977 | 1978 | 1979 | 1980 | 1981 | 1982 |
| --- | --- | --- | --- | --- | --- | --- |
| 223 | 174 | 157 | 170 | 205 | 231 | 230 |
G. SOCIO-ECONOMIC CONDITIONS (Q2)
G1 LAND USE IN THE CATCHMENT AREA
Main types of woody vegetation: Conifer forest.
Main types of herbaceous vegetation: Meadows and pasture lands.
Main kinds of crops
Grape (south slope); maize, beet and potato (Midland area and Rhone Valley); occasionally large orchards and vegetable growing.
G2 INDUSTRIES IN THE CATCHMENT AREA AND THE LAKE
No. of persons engaged(1980)
Main products or major industries
- Primary industry
Agriculture
30,000
Fisheries
100
- Secondary industry
Chemicals, metals,machinery, and electrical machinery
G3 POPULATION IN THE CATCHMENT AREA
1980
Population
Population density [km-2]
Major cities (population)
Total
950,000
119
Geneva* (174,000), Lausanne, Montreux
* Not all the city area is included in the drainage basin.
H. LAKE UTILIZATION (Q2)
H1 LAKE UTILIZATION
Source of water, fisheries, navigation, tourism and recreation (swimming, sport-fishing, yachting).
H2 THE LAKE AS WATER RESOURCE
1980
Use rate [m3 sec-1]
Domestic
2.38
Power plant
N.A.
I. DETERIORATION OF LAKE ENVIRONMENTS AND HAZARDS (Q2)
I3 EUTROPHICATION
Nuisance caused by eutrophication
Unusual algal bloom: Oscillatoria rubescens.
Nitrogen and phosphorus loadings to the lake [t yr-1]
T-N: 1,300 (1982). T-P: 1,270 (1980), 1,180 (1981), 1,350 (1982).
M. LEGISLATIVE AND INSTITUTIONAL MEASURES FOR UPGRADING LAKE ENVIRONMENTS (Q2)
M1 NATIONAL AND LOCAL LAWS CONCERNED
Names of the laws (the year of legislation)
Federal law on the Protection of Water against Pollution (Water Protection Law)(1971)
Responsible authorities
Cantonal and Federal authorities
N. SOURCES OF DATA
Questionnaire filled by Dr. Eichenberger, Feldmeiden.
Questionnaire filled by Office Federal de la Protection de l'Environnement, Bern.
Lachavanne, J.-B. (1980) Les manifestations de l'eutrophisation des eaux dans un grand lac profond, le Leman (Suisse). Schweiz. Z. Hydrol., 42(2): 127-154.
Muller, M. J. (1982) Selected Climatic Data for a Global Set of Standard Stations for Vegetation Science. 306 pp. Dr. W. Junk Publishers, The Hague.
Balvay, G., Blanc, P., Burkard, P., Burrus, D., Corvi, C., Druart, J.-C., Giger, W., Monod, R., Pelletier, J., Revaclier, R., Schnydrig, J.-P., Thelin, L., Vernet, J.-P. & Viel, M. (1982) Rapports, sur les Etudes et Recherches Entreprises dans le Bassin lemanique, Programme quinquennal 1981-1985, Campagne, 1982. 182 pp. Commission Internationale pour la Protection des Eaux du Leman contre la Pollution, Lausanne.
Commission Internationale pour la Protection des Eaux du Leman contre la Pollution (1980) Le leman, on Lac & Proteger! 31 pp. Lausanne.
Lachavanne, J.-B. (1977) Evolution de la flore et de la vegetation aquatiques du Leman. Coden: Cndlar, 32(1): 121-132.
Naef, J. & Martin, P. (1983) Arch. Sc. Geneva, 36(3): 479-500.
Martin, P. & Naff, J. (1978) Plancton du lac Leman (caracteristique de l'annee 1977). Seance, 26 octobre: 98-108.