LAKE TURKANA
A view on the lakeshore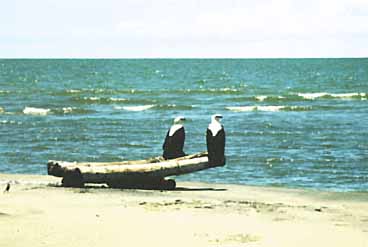 Photo: J.Kolding
A. LOCATION
Gamo Gofa, Ethiopia; and Rift Valley and Eastern, Kenya.
2:23-4:35N, 35:50-36:44E; 360.4 m above sea level.
B. DESCRIPTION
Lake Turkana is situated in the Great Rift Valley in the northwestern part of Kenya. Volcanic activity was frequent during the creation of the Rift Valley and lavas from the Quaternary and Tertiary ages cover much of the floor of the valley in Kenya. The lavas are mainly of alkaline type, which has important implications for the chemical composition of lakes in this area. In the Lake Turkana basin, Tertiary volcanic rocks are found in the south and along most of the western side of the lake, while a later lava flow (Pleistocene) forms a barrier in the southern end of the lake.
Quaternary sediments dominate the western and northern side of the lake. L. Turkana is in an arid and hot area. The mean annual rainfall in most of the lake surroundings is less than 250 mm. The occurrence of rainfall is very erratic and unpredictable, although the probability of rainfall is the highest during the "long rains" in March May. The air temperature recordings at Lodwar show a seasonal pattern with the lowest temperatures in July August, a wide range between 19.5 and 39.9deg C, and a mean daily temperature of 29.26deg C. The lake is exposed to frequent strong winds, the prevailing wind direction being from the southeast.
The main tributary is the River Omo, which enters the lake from the north and contributes more than 90% of the total water influx. Other rivers are temporary, flooding only during sporadic rains. The second largest river, Turkwel River, is now being dammed for hydroelectric power generation at Turkwel Gorge ca. 150 km west of the lake.
L. Turkana has no outlet, and water is lost from the lake mainly by evaporation. The evaporation rate has been estimated at 2,335 mm yr-1. The water level of this closed basin lake is determined by the balance between the influx from rivers and groundwater and the evaporation from the lake surface. Therefore the level is sensitive to climatic variations, and subject to marked seasonal fluctuations as well as to long-term periodical changes.
The development of phytoplankton is limited by the availability of nitrate and light. Light limitation was caused by turbid water and vertical mixing. The sustainable yield of traditionally exploited fish from open lake was estimated to be 15,000 30,000 t yr-1 (1).

C. PHYSICAL DIMENSIONS
| | |
| --- | --- |
| Surface area [km2] | 6,750 |
| Volume [km3] | 203.6 |
| Maximum depth [m] | 109 |
| Mean depth [m] | 30.2 |
| Water level | Unregulated |
| Normal range of annual water level fluctuation [m] | ca. 1 1.5 |
| Residence time [yr] | 12.5 |
| Catchment area [km2] | 130,860 |
D. PHYSIOGRAPHIC FEATURES
D1 GEOGRAPHICAL
Bathymetric map: Fig. AFR-20-1.
Number of main islands (name and area): North, Central and South.
Nomber of outflowing rivers and channels: None.
Bathymetric map [m](1).
Fluctuations in the level of Lake Turkana, 1888 1989 [m](2). 0 m: ca. 365 m a.s.l.
D2 CLIMATIC (1)
Climatic data at Lodwar*, 1975
| | Jan | Feb | Mar | Apr | May | Jun | Jul | Aug | Sep | Oct | Nov | Dec | Ann. |
| --- | --- | --- | --- | --- | --- | --- | --- | --- | --- | --- | --- | --- | --- |
| Mean temp. [deg C] | 28.7 | 29.7 | 30.1 | 29.5 | 29.7 | 29.0 | 28.3 | 28.4 | 29.4 | 29.8 | 29.0 | 28.5 | 29.2 |
| Precipitation [mm] | 9 | 7 | 21 | 48 | 25 | 7 | 14 | 10 | 3 | 8 | 13 | 13 | 178 |

* About 30 km west from Nataba.
Solar radiation (Lodwar, 1975): 22.3 MJ m-2 day 1.
Water temperature [deg C](1)
Depth-season isotherms at Station H1, 1987 1988 (1).
Mixing type: Monomictic.
Notes on water mixing and thermocline formation
Due to the proximity of the equator, the annual temperature variations are small. The subsurface temperature ranged from 27.5 to 31deg C and the bottom temperature (70 m) was 25.5 27.0deg C. In spite of the small annual variations and the frequent strong winds, periods of temperature stratification were observed during the first half-years in 1987 and 1988.
E. LAKE WATER QUALITY
E1 TRANSPARENCY: Fig. AFR-20-4.
Secchi depth recordings in the central sector, 1987 1988 (1).
E2 pH (1)
Ferguson's Gulf, 1985: 10.27 (9.62 10.49).
E3 SS [mg l-1](1)
Station, 1988
Depth [m]
S.N.I.
H1
SW C.I.
S1
0 3
35.75
0 6
2.71
3.54
1.57
10
20.17
3.56
2.29
1.92
40
3.16
1.39
E4 DO: Fig. AFR-20-5.
Dissolved oxygen distribution at Station H1,1987 1988 [mg l-1](1).
Temperature [deg C] and oxygen [mg l-1] profiles in the central sector (1).
E6 CHLOROPHYLL CONCENTRATION
Depth profiles of chlorophyll a [micro l-1] in the central part of the lake during stratification (4 April) and circulation (2 August), 1988 (3).
Profiles of chlorophyll a in the southern, central and northern part of the lake, July August 1988 (3).
F. BIOLOGICAL FEATURES
F1 FLORA (1)
Phytoplankton
Microcystis aeruginosa, Anabaenopsis arnoldii, Botryococcus braunii, Planctonema lauterbornii, Oocystis gigas, Sphaerocystis schroeteri, Coscinodiscus sp. (probably C. rudolfii), Surirella sp.
F2 FAUNA
Zooplankton
Copepoda (Tropodiaptomus banforanus, Mesocyclops leuckarti, Thermocyclops hyalinus); Cladocera (Diaphanosoma excisum, Ceriodaphnia rigaudi, Moina spp.); Protozoa (Vaginicola sp.)(1).
Fish
Alestes baremose, A. minutus, A. ferox, Lates niloticus, L. longispina, Hydrocynus forskalii, Bagrus bayad, B. docmac, Synodontis schall, Oreochromis niloticus, Labeo horie, Citharinus citharus, Distichodus niloticus, Schilbe uranoscopus, Barbus bynni, Clarias lazera, Heterotis niloticus (1, 2).
F3 PRIMARY PRODUCTION RATE: Fig. AFR-20-9.
Profiles of phytoplankton primary production [mg O2 l-1 hr 1] in the central part of the lake, 1987 1988 (1).
F4 BIOMASS (1)
Biomass of zooplankton [g (dry wt.) m-2] in the central sector, 1987 1988.
Composition of zooplankton in the central sector, 1987 1988.
F5 FISHERY PRODUCTS (2)
Annual fish catch [metric tons]
1988: 15,000. Fig. AFR-20-12 Commercial annual catch per boat [t (wet wt.)] plotted against mean annual lake level [m] of the preceding year, 1972 1975 and 1977 1988.

Relative species composition (in percent wet weight) of commercial fish catches, 1952 1988.
G. SOCIO-ECONOMIC CONDITIONS (4, 5)
G1 LAND USE IN THE CATCHMENT AREA
1990
Area [km2]
[%]
Natural landscape
- Woody vegetation
6,543
5
- Herbaceous vegetation 58,887
45
Agricultural land
- Crop field
3,271.5
2.5
- Pasture
62,158.5
47.5
Total
130,860
100
Types of important woody vegetation: Semi-desert scrub, mainly acacias.
Types of important herbaceous vegetation
Semi-desert grassland with annual and perennial scrubs.
Main kinds of crops and/or cropping systems
Mainly pasture; occasionally millet fields.
Levels of fertilizer application on crop fields: None.
G2 INDUSTRIES IN THE CATCHMENT AREA AND THE LAKE
1988
Gross production during the year [tons]
No. of persons engaged
No. of establishments
Primary industry
- Animal husbandry
N.A. (mainly sustenance)
- Fisheries
1,500
1,500
2
Secondary industry
None
Tertiary industry
None
G3 POPULATION IN THE CATCHMENT AREA
1988
Population
Population density [km 2]
Major cities
Total
230,000
3.5
H. LAKE UTILIZATION (4)
H1 LAKE UTILIZATION
Sightseeing and tourism (1,000 visitors in 1988), recreation (sport-fishing) and fisheries.
I. DETERIORATION OF LAKE ENVIRONMENTS AND HAZARDS (4)
I1 ENHANCED SILTATION
Extent of damage: Not serious.
I3 EUTROPHICATION
Nitrogen and phosphorus loadings to the lake [g m-2 day 1]
1988
Source
Industrial
Domestic
Agricultural
Natural
Total
T-N
None
N.A.
N.A.
0.1
N.A.
I4 ACIDIFICATION
J. WASTEWATER TREATMENTS (Q)
J1 GENERATION OF POLLUTANTS IN THE CATCHMENT AREA
b) No sources of significant pollution.
J3 SANITARY FACILITIES AND SEWERAGE
None.
L. DEVELOPMENT PLANS (Q)
There are plans for damming the Omo River for irrigation purposes.
M. LEGISLATIVE AND INSTITUTIONAL MEASURES FOR UPGRADING LAKE ENVIRONMENTS (Q)
M3 RESEARCH INSTITUTES ENGAGED IN THE LAKE ENVIRONMENT STUDIES
Kenya Marine and Fisheries Research Institute, Turkana Laboratory
N. SOURCES OF DATA
Questionnaire filled by Dr. J. Kolding, University of Bergen, Norway, and supplemented by the editors with the support of Norwegian Institute for Water Research.
Kallqvist, T., Lien, L. & Liti, D. (1988) Lake Turkana, Limnological Study 1985 1988. NIVA-Report 0-85313. 98 pp. Norwegian Institute of Water Research (NIVA), Blindern, Norway
Kolding, J. (1992) Mitt. Internat. Verein. Limnol., 23: 25 35.
Liti, D., Kallqvist, T. & Lien, L. (1991) Verh. Internat. Verein. Limnol., 24: 1108 1111.
Kolding, J. (1989) The fish resources of Lake Turkana and their environment. Thesis for the Cand. Scient. degree in Fisheries Biology and Final Report of KEN 043 Trial Fishery 1986 1987. University of Bergen, Norway. Report to NORAD, Oslo December 1989. 262 pp.
Hopson, A. J. (ed.)(1982) Lake Turkana; A Report on the Finding of the Lake Turkana Project 1972 1975, Vols. 1 6. Overseas Development Administration, London. 1614 pp.