LAKE NYASA (LAKE MALAWI)
View over the lake from Dzimwe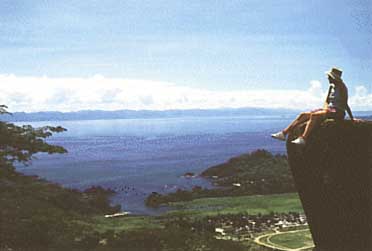 Photo: H.Bootsma
A. LOCATION
Niassa, Mozambique; Malawi; and Ruvuma, Tanzania.
9:30-14:30S, 34:51-34:57E; 500 m above sea level.
B. DESCRIPTION
Lake Nyasa is the most southerly of the great African Rift Valley lakes. It is about 560 km long and has a greatest width of about 75 km. In contrast with Lake Tanganyika, it consists of a single basin with greatest depth of about 706 m near the western shore about 45 km north of Nkhata Bay. It lies between 9:30-and 14:30S at an altitude of about 500 m in a tropical climate. However it lies far enough south of the equator to experience marked seasonal variations in wind, temperature and precipitation.
The lake occupies part of the southern end of the Rift Valley system and is to a large extent delimited by faults, particularly to the north and on the eastern coast. In these areas the shores are steep and depths in excess of 200 m are found close inshore. At the southern extremity and along the southern half of the west coast the shoreline is more gently shelving. From here the bottom rises gradually to north and south and, except for a ridge some 20 m high at 10:25S, there is no trace of separate basins as in Lake Tanganyika. In further contrast to Lake Tanganyika, where a depth of 200 m is found within 20 km of the southern extremity of the lake, in Lake Nyasa such a depth is not encountered within 110 km of the southern end (8, 1).
C. PHYSICAL DIMENSIONS (Q)
| | |
| --- | --- |
| Surface area [km2] | 6,400 |
| Volume [km3] | 8400 |
| Maximum depth [m] | 706 (2) |
| Mean depth [m] | 292 |
| Water level | Regulated |
| Normal range of annual water level fluctuation [m] | 0.7-1.8 |
| Length of shoreline [km] | 245 |
| Catchment area [km2] | 6,593 |
D. PHYSIOGRAPHIC FEATURES
D1 GEOGRAPHICAL (Q)
Bathymetric map: Fig. AFR-13-01.
Number of outflowing rivers and channels (name): 1 (Shire R.).
D2 CLIMATIC
Climatic data at Metangula
Mean temp. [deg C]: Annual mean temperature 27-28*. * For 3 years.
Number of hours of bright sunshine (Tete, 1972): 2,860 hr yr-1 (3).
Water temperature [deg C](8, 1)
Annual mean 25* (cf. Fig. AFR-13-02 and 03). * For 2 years.
Freezing period: None.
Bathymetric map (1).
Vertical distribution of water temperature [deg C] and DO [ppm](1).
Seasonal variation of vertical water temperature [deg C] distribution at Monkey Bay over a 17-month period (1).
E. LAKE WATER QUALITY
E1 TRANSPARENCY [m](Q)
Metangula
Jan
Feb
Mar
Apr
May
Jun
Jul
Aug
Sep
Oct
Nov
Dec
Depth [m]
13
14
-
13
13
-
-
-
-
23
16
-
E4 DO [mg l-1]
Metangula for 1 year
Depth [m]
Jan
Feb
Mar
Apr
May
Jun
Jul
Aug
Sep
Oct
Nov
Dec
0-100
7
8
8
7
8
7
-
-
-
-
8
7
200
5
5
6
5
5
6
5
5
6
6
6
5
>200*

* Anoxic conditions.
E6 CHLOROPHYLL CONCENTRATION [micro g l-1](Q)
Metangula
Depth [m]
Jan
Feb
Mar
Apr
May
Jun
Jul
Aug
Sep
Oct
Nov
Dec
10
0.25
-
0.6
0.7
0.65
1.3
1.0
1.2
0.25
0.2
0.2
0.5
50
1.5
-
0.5
0.55
0.7
0.5
0.6
0.5
0.35
0.5
0.1
0.7
F. BIOLOGICAL FEATURES (Q)
F1 FLORA
Emerged macrophytes: Phragmites mauritianus.
F2 FAUNA
Zooplankton
Mesocyclops leuckarti, Diaphanosoma excisum, Bosmina longirostris, Diaptomus sp.
Fish
Varicorthinus nyassensis, Labeo mesops, Opsaridium microcephalus, Bagrus meridionalis, Bathyclarias sp., Oreochromis squamipinnis, O. shirana, O. saka, Tilapia redalli, Haplochromis kiwinge, H. livingstonii, H. taeniolatus, H. phenochilus, Lethrinops sp., Pseudotropheus sp., Labidochromis sp., Labeotropheus sp., Serranochromis thumbergi, Rhamphochromis sp.
F5 FISHERY PRODUCTS
Annual fish catch [metric tons]
1983: 9,000*1 (Q). 1971: 21,000*2 (1). *1 Mozambique side only. *2 In total.
G. SOCIO-ECONOMIC CONDITIONS (Q)
G1 LAND USE IN THE CATCHMENT AREA
Main kinds of crops: Cassava, maize.
Levels of fertilizer application on crop field: None.
G2 INDUSTRIES IN THE CATCHMENT AREA AND THE LAKE
| | Gross product per year | No. of persons engaged | No. of establishments |
| --- | --- | --- | --- |
| Primary industry | N.A. | N.A. | N.A. |
| Secondary industry | N.A. | N.A. | N.A. |
| Others | N.A. | 3,000 | 3 |
Numbers of domestic animals in the catchment area: No information.
G3 POPULATION IN THE CATCHMENT AREA
No information.
H. LAKE UTILIZATION (Q)
H1 LAKE UTILIZATION
Source of water, navigation and transportation, sight-seeing and tourism and fisheries.
H2 THE LAKE AS WATER RESOURCE: No information.
I. DETERIORATION OF LAKE ENVIRONMENTS AND HAZARDS (Q)
I1 ENHANCED SILTATION
I2 TOXIC CONTAMINATION
I3 EUTROPHICATION
No eutrophication.
I4 ACIDIFICATION
J. WASTEWATER TREATMENTS (Q)
J1 GENERATION OF POLLUTANTS IN THE CATCHMENT AREA
No major human settle ments or activities producing significant pollution.
J2 APPROXIMATE PERCENTAGE DISTRIBUTIONS OF POLLUTANT LOADS
Non-point sources: 100%.
J3 SANITARY FACILITIES AND SEWERAGE
Percentage of municipal population in the catchment area provided with adequate sanitary facilities (on-site treatment systems) public sewerage: 0.5- 1%.
Percentage of rural population with adequate sanitary facilities (on-site treatment systems): 0.
L. DEVELOPMENT PLANS
There is a plan for a small fisheries enterprise and navy bases in Metangula.
M. LEGISLATIVE AND INSTITUTIONAL MEASURES FOR UPGRADING LAKE ENVIRONMENTS (Q)
M2 INSTITUTIONAL MEASURES (the year of establishment)
Fisheries Research Institute with a Research Office in Metangula (1980)
M3 RESEARCH INSTITUTES ENGAGED IN THE LAKE ENVIRONMENT STUDIES
Fisheries Research Institute
N. SOURCES OF DATA
Questionnaire filled by Dr. A. V. R. Massinga, Fisheries Research Institute, Maputo, Mozambique.
Eccles, D. H. (1974) An outline of the physical limnology of Lake Malawi (Lake Nyasa), Limnol. Oceanogr., 19: 730-743.
Herdendorf, C. E. (1982) Feature Article, Large lakes of the world. J. Great Lakes Res., 8 (3): 379-412.
Griffiths, J. F. (1972) Mozambique. "World Surveys of Climatology, Volume 10, Climate of Africa" (ed. Griffiths, J. F.), p. 404. Elsevier Scientific Publishing Company, Amsterdam, London, New York.