LAKE EDWARD
Southern shore of the lake,
Virunga Mountains in the background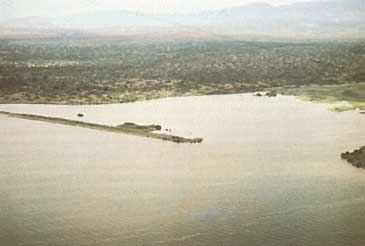 Photo: R.E.Hecky
A. LOCATION
Kivu, Zaire; and Southern, Uganda.
0:53S, 29:34E; 912 m above sea level.
B. DESCRIPTION
Lake Edward is one of the great lakes of Africa lying in the western Rift Valley. Its length is about 65 km and the maximum width is 38 km. The deepest region is a trench only 5 km from the western shore from which the escarpment rises precipitously to highlands exceeding 2,500 m in altitude. The eastern side of this trench is much less steep and rises with an almost uniform gradient for more than 30 km under water to the Uganda shore.
The Main inflows to Lake Edward are the Nyamugasani River, which drains the southwestern end of the Rwenzoris, and Ishasha, Rutshuru and Rwindi Rivers from the Kigezi and Rwanda highlands and the Virunga volcanoes in the south. The annual contribution from the Kazinga Channel is probably small compared with that from the rivers. The amount of water flowing through the lake, exclusive of evaporation, can be seen at the outflow via the Semliki River at Ishango in the northwest which is 30-40 m wide. The water leaves the lake as a rapid and turbulent stream about 3 m deep over rocks and boulders. It is so clear that the hippopotamus can be observed under water and large numbers of BaRbus are seen facing the current.
The eastern half of Lakes Edward and George is surrounded by the Rwenzori National Park of Uganda. The western half of Lake Edward, including the outflowing Semliki River, is encompassed by the Parc National de Zaire. This whole vast region of national parks from Lake Albert to Kivu - the Great Rift Valley with its lakes, game plains and precipitous escarpments, the glaciated Rwenzoris and partially extinct Virunga volcanoes, the tropical rainforests of Semliki Valley, the mountain forests above 3,000 m and the alpine highlands above 3,800 m - present some of the most dramatic and beautiful scenery in Africa and, with its great variety of organisms and of conditions of existence, is of extreme interest to land and water ecologists (Q, 1).

C. PHYSICAL DIMENSIONS
| | |
| --- | --- |
| Surface area [km2] | 2,325 |
| Maximum depth [m] | 112 |
| Mean depth [m] | 17* |
| Catchment area [km2] | 12,096 |

* Uganda part.
D. PHYSIOGRAPHIC FEATURES
D1 GEOGRAPHICAL (Q)
Bathymetric map: Fig. AFR-12-01.
Number of outflowing rivers and channels (name): 1 (Semliki R.).
D2 CLIMATIC
Climatic data at Kabale (3)
Mean temp. [deg C]
Jan
Feb
Mar
Apr
May
Jun
Jul
Aug
Sep
Oct
Nov
Dec
Ann.
Minimum
10
10
10
11
11
9
9
10
10
10
10
10
10
Maximum
24
24
23
23
22
22
23
23
24
23
23
23
23
Precipitation [mm]
Jan
Feb
Mar
Apr
May
Jun
Jul
Aug
Sep
Oct
Nov
Dec
Ann.
61
91
114
136
92
26
20
55
95
98
107
91
986
Number of hours of bright sunshine: 1,944 hr yr-1 (Q).
Solar radiation: 19.9 MJ m-2 day-1 (Q).
Bathymetric map (1).
Water temperature: Fig. AFR-12-02.
Distribution of water temperature on 29 February 1964 (2).
Freezing period: None (Q).
Mixing type: Monomictic (Q).
Notes on water mixing and thermocline formation
L. Edward is intermediate in its characteristics between the deep Lakes Tanganyika and Nyasa, and the shallow Lakes George and Albert (Q).
E. LAKE WATER QUALITY
E1 TRANSPARENCY [m](Q)
1965: 1.8-3.0.
E2 pH (Q, 2)
1965: 8.8-9.1 (6).
Distribution of pH on 29 February 1964.
E3 CONDUCTIVITY [micro mho/cm]
878-1,130.
F. BIOLOGICAL FEATURES
F2 FAUNA (Q)
Fish
Bagrus docmac, Sarothelodon niloticus, S. leucostictus, Haplochromis spp., Hemihaplochromis multicolur, Schutzia eduardiana.
Supplementary notes on the biota
Some endemic cichlids have been found. About 18 Haplochromis spp. are endemic.
F5 FISHERY PRODUCTS (Q)
Annual fish catch [metric tons]
1972: 5,731.
F6 PAST TRENDS
Fishery production* [metric tons]
| '71 | '72 | '73 | '74 | '75 | '76 | '77 | '78 | '79 | '80 | '81 | '82 |
| --- | --- | --- | --- | --- | --- | --- | --- | --- | --- | --- | --- |
| 11.7 | 12.3 | 11.0 | 10.5 | 13.2 | 12.6 | 12.0 | 11.8 | 9.6 | 7.0 | 5.0 | 6.9 |

* Fish landed for Lakes Edward and George.
G. SOCIO-ECONOMIC CONDITIONS (Q)
G3 POPULATION IN THE CATCHMENT AREA
1980
Population
Population density [km-2]
Major cities (population)
Total
625,782
51.7
None
H. LAKE UTILIZATION
H1 LAKE UTILIZATION
Source of water, sightseeing and tourism and fisheries.
M. LEGISLATIVE AND INSTITUTIONAL MEASURES FOR UPGRADING LAKE ENVIRONMENTS (Q)
M1 NATIONAL AND LOCAL LAWS CONCERNED
Names of the laws (the year of legislation)
The Fish and Crocodile Act (1951)
The Trout Protection Act (1936)
The Ordinance 6 (1956, special for Lakes George, Edward and Kazinga Channel)
esponsible authorities
Laws of Uganda-Acts of Parliament
Main items of control
Control of fishing intensity
Conservation of fish
Purchase, sale and marketing of fish
Processing of fish
Protection of fishermen
Supplementary notes
The ordinance prohibited fishing with baskets in waters of L. George, Edward and Kazinga Channel, and with a vessel (with long lines of nets) in waters of Uganda without a licence. Also laws prohibited catches of immature fish, or use of prohibited types of nets and mesh sizes (Laws of Uganda, 1964).
M2 INSTITUTIONAL MEASURES
Uganda Fresh Water Fisheries Research Organization (UFFRO), formerly (EAFFRO) at Jinja
East African Marine Fisheries Organization based at Zanzibar
East African Meteorological Department at Nairobi
East African Universities
M3 RESEARCH INSTITUTES ENGAGED IN THE LAKE ENVIRONMENT STUDIES
UFFRO
Uganda Meteorological Department
East African Universities
N. SOURCES OF DATA
Questionnaire filled by Dr. J. Okedi, Makerere University based on the following sources.
Beadle, L. C. (1981) Lakes Edward and George. "Inland Waters of Tropical Africa" (ed. Beadle, L. C.) pp. 231-244. Longman Group Limited, London and New York.
--- (1966) Prolonged stratification and deoxygenation in tropical lakes. I. Crater Lake Nkugute, Uganda, compared with Lakes Bunyoni and Edward. Limnol. Oceanogr.,11: 152-163.
Griffiths, J. F. (1972) Eastern Africa. "World Survey of Climatology Volume 10" (ed. Griffiths, J. F.) p. 336. Elsevier Publishing Company, Amsterdam-London-New York.
Rijks, D. A. & Owen, G. W. (1965) Hydrometeorological Records from Areas of Potential Agricultural Development in Uganda. Water Development Department, Entebbe.
Summary of Hydrological Records 1962.1968 (1970) Water Development Department, Entebbe.
The Report on the 1980 Population Census, No. 1. 1 (1982) Government Printer. Entebbe.
The Department of Fisheries, FAO (1972) A brief review of the current status of the inland fisheries of Africa. Afr. J. Trop. Hydrobiol. Fish. Special Issue 1.
Talling, J. F. & Talling, I. B. (1965) The chemical composition of African lake waters. Int. Rev. ges. Hydrobiol., 50: 421-463 (in Beadle, 1981 and Fryer & Iles, 1972).