LAKE ALBERT
Westren shore of the lake,
Rift Valley mountains in the background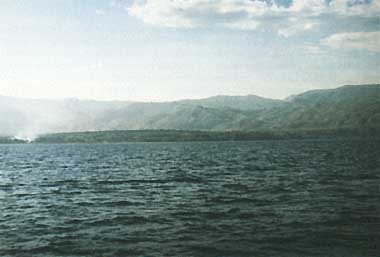 Photo: R.E.Hecky
A. LOCATION
Haut-Zaire, Zaire; and Western, Uganda.
l:00-2:20N, 30:20-31:30E; 615 m above sea level.
B. DESCRIPTION
Lake Albert is a typical Rift Valley lake lying at an altitude of 615 m between two parallel escarpments, that on the western side rising abruptly to nearly 2,000 m above the water surface. The lake is about 150 km long, with an average width of about 35 km, and a maximum depth of 56 m within 7 km of the mid-western shore. The main inflow is at the south end via the Semliki River which comes from Lake Edward through the western edge of the great Ituri rain forest in Zaire, augmented by streams from the northern slopes of the Rwenzoris. On its course through the forest are several kilometers of rapids which are an effective barrier to faunal interchange between the two lakes. Most of the lateral inflows into the lake from the escarpments are seasonal and contribute very little, since their catchments are small. Owing to an accident of geological history, the overflow from Lakes Victoria and Kyoga, known as the Victoria Nile, originated by uptilting of the Victoria basin in the late Pleistocene and made its way via a previous river valley to a low point along the Rift wall to plunge over the Murchison Falls and to reach Lake Albert at its very northernmost end almost directly into the outflowing Albert Nile.
The water of the Victoria Nile is much less saline than that of Lake Albert. It has therefore been possible to demonstrate by conductivity measurements that even in times of floods the river water does not affect the lake beyond about 10 km from the north end. The Victoria Nile thus serves to maintain the level but has no other influence on the water of the lake except at its northern end though its rate of flow is considerably greater than that of the Semliki. The hydrology and ecology of the lake would have been different if the Victoria Nile had flowed into it near the south end, or alternatively, had joined the Albert Nile further north where it could have had no controlling influence on the level of the lake. In the latter event a small reduction in the rainfall in the Albert and Edward basins and thus a smaller inflow from the Semliki, could result in an excess of evaporation over inflow with a consequent fall in level and stoppage of the outflow. The level of Lake Albert is now maintained above the exit partly by the Victoria Nile which functions in the manner of the inflow to a constant level water still (Q, 10).
C. PHYSICAL DIMENSIONS (Q, 1)
| | |
| --- | --- |
| Surface area [km2] | 5,300 |
| Volume [km3] | 280 |
| Maximum depth [m] | 58 |
| Mean depth [m] | 25 |
| Water level | Unregulated |
| Normal range of annual water level fluctuation [m] | 0.5 |
D. PHYSIOGRAPHIC FEATURES
D1 GEOGRAPHICAL
Bathymetric map: Fig. AFR-11-0l.
Names of main islands: None (1).
Number of outflowing rivers and channels (name): 1 (Albert Nile)(Q).
D2 CLIMATIC
Mean temp. [deg C]*1
Jan
Feb
Mar
Apr
May
Jun
Jul
Aug
Sep
Oct
Nov
Dec
Ann.
Minimum
16
17
18
18
18
17
17
17
17
17
16
16
17
Maximum
32
32
31
29
28
27
27
27
28
29
30
30
29
Precipitation [mm]*2
Jan
Feb
Mar
Apr
May
Jun
Jul
Aug
Sep
Oct
Nov
Dec
Ann.
14
32
58
102
95
53
66
83
75
84
73
30
765

*1 Gulu (2). *2 Butiaba, 1908-1967 (Q).
Number of hours of bright sunshine: 2,190 hr yr-1 (Q).
Bathymetric map (1).
Water temperature: Fig. AFR-11-02.
Water temperature profiles [deg C](1).
Mixing type: Monomictic.
Notes on water mixing and thermocline formation
Mixing takes place in August, stratification in March.
E. LAKE WATER QUALITY
E1 TRANSPARENCY [m](3)
2.0-6.0.
E2 pH (1)
Profiles of pH.
E4 DO [mg l-1]
Profiles of DO (1).
E7 NITROGEN CONCENTRATION (1)
Profiles of NO3-N concentration.
E8 PHOSPHORUS CONCENTRATION (1)
Profiles of PO4-P concentration.
Profile of Total-P concentration.
F. BIOLOGICAL FEATURES
F1 FLORA (4)
Phytoplankton
Stephanodiscus astraea, Nitzschia bacata, Anabaena flos-aquae, Melosira nyassensis.
F2 FAUNA (5)
Fish
Alestes baremose*, Lates niloticus, Hydrocynus forskalli, Clarias lazera*, Mormyrus kanume, Polypterus sp., Tillapia spp*., Citharinus cithanus*, Barbus spp., Distichodus niloticus. * Economically important.
F5 FISHERY PRODUCTS (Q)
Annual fish catch [metric tons]

1982: 10,000.
F6 PAST TRENDS (Q)
Fishery production [1,000 metric tons]
'71 '72 '73 '74 '75 '76 '77 '78 '79 '80 '81
9.5 10.4 13.0 13.5 18.7 12.3 20.6 20.6 17.0 13.0 6.0
G. SOCIO-ECONOMIC CONDITION
G1 LAND USE IN THE CATCHMENT AREA
Main types of woody vegetation
Tropical rain forest (national), scrub with Acaccia hokii and swamp on the eastern side of the lake.
H. LAKE UTILIZATION (Q)
H1 LAKE UTILIZATION
Source of water and fisheries.
I. DETERIORATION OF LAKE ENVIRONMENTS AND HAZARDS (1)
I3 EUTROPHICATION
Nuisance caused by eutrophication
Unusual algal bloom: Anabaena flos-aquae, Melosira nyassensis. Harms to fishery products: Nile perch kills.
J. WASTEWATER TREATMENTS (Q)
J1 GENERATION OF POLLUTANTS IN THE CATCHMENT AREA
Pristine lake environments.
M. LEGISLATIVE AND INSTITUTIONAL MEASURES FOR UPGRADING LAKE ENVIRONMENTS
M1 NATIONAL AND LOCAL LAWS CONCERNED (11)
Names of the laws (the year of legislation)
The Trout Protection Act (1936)
The Fish and Crocodile Act (1951)
The Ordinance 6 (1958)
Responsible authorities
Laws of Uganda-Acts of Parliament
Main items of control
Conservation of fish
Control of fishing intensity and methods
Purchase of sale and marketing of fish
Processing of fish
Protection of fish
Supplementary notes
Fishing using unrecognized gear systems and methods is prohibited.
M2 INSTITUTIONAL MEASURES (5)
Uganda Fresh Water Fisheries Research Organization (UFFRO), formerly (EAFFRO) at Jinja
East African Marine Fisheries Research Organization based at Zanzibar
East African Meteorological Department at Nairobi (Entebbe-Uganda)
East African Universities
M3 RESEARCH INSTITUTES ENGAGED IN THE LAKE ENVIRONMENT STUDIES (5)
UFFRO
Makerere University
Dar-Es Salam University
Nairobi University
N. SOURCES OF DATA
Questionnaire filled by Dr. J. Okedi, Makerere University based on the following sources.
Talling, J. F. (1963) Limnol. Oceanogr., 8: 68-78.
Griffiths, J. F. (1972) Eastern Africa. "World Survey of Climatology Volume 10" (ed. Griffiths, J. F.), p. 338. Elsevier Publishing Company, Amsterdam-London-New York.
Talling, J. F. & Talling, I. B. (1965) Int. Rev. ges. Hydrobiol., 50: 421-463.
Talling, J. F. (1976) Phytoplankton; composition, development and productivity. "The Biology of an Ancient River" (ed. Rizoska), pp. 357 384. Junk, The Hague.
Morgan, W. T. W. (1972) East Africa: It's Peoples and Resources, pp. 312. Oxford University Press, London and New York.
Blue Print for Fisheries Development in Uganda (1983) Min. of Animal Industry and Fisheries. 18, pp. Sapoisa Press LTD, Kampala.
Worthington, E-B. (1930) Int. Rev. ges. Hydrobiol., 24 (3/4).
Rijk, D. A. & Owen. W. G. (1965) Hydrometeorological Records from Areas of Potential Agricultural Development in Uganda. Min. of Minerals and Water Resources, Government of Uganda, Entebbe.
Hydrometeorological Survey of the Catchments of Lakes Victoria, Kyoga and Albert (1970) A Biennial Review 1967-69, Supplement. Government of Uganda, Entebbe.
Beadle, L. C. (1981) Lakes Albert (Mobutu) and Turkana (Rudolf), the Ethiopian Rift Lakes and Lake Tsana. "The Inland Waters of Tropical Africa" (ed. Beadle, L. C.), pp. 173-193. Longman Group Limited, London and New York.
Laws of Uganda (1964) Government Printer, Entebbe.