LAKE CHAD
A tour boat on the lake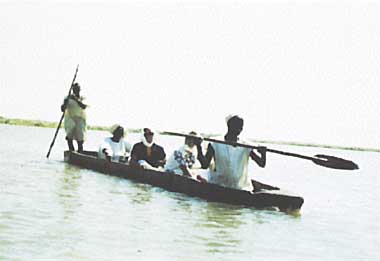 Photo: N.Hata
A. LOCATION
Lac and Chari Baguirmi, Chad; Nord, Cameroon; Borno, Nigeria; and Diffa, Niger.
12:20-14:20N, 13:00-15:20E; 280 m above sea level.
B. DESCRIPTION
Being on the southern fringe of the Sahara Desert in north-central Africa, Lake Chad extends over the territories of four countries: Chad, Niger, Nigeria and Cameroon. Owing to the supply of river water from the highlands to the south, it remains a freshwater lake under the prevailing arid climate. Apparently no river flows out from the lake, though some water is said to percolate along the dry bed of the Gazal River to feed the oases of the Bodele Depression about 40 km to the northeast.
The water level is variable as it is influenced by the rainfall fluctuation both seasonally and annually. The lake size was five times its present size (ca. 20,000 km2) several thousand year ago, while the drought years in the 1970's made the northern half of the lake (Northern Basin) completely dry and turned the Southern Basin into a densely vegetated area with scattered swamps and open pools (Fig. AFR-02-01).
L. Chad is very shallow even in normal years, averaging 1.5 m in depth. It is fringed by a zone of swampy vegetation dominated by reeds (Phragmites spp.), papyrus (Cyperus papyrus) and cattail (Typha australis). These water plants often form dense thickets or floating mats even in the centre of the lake. Local inhabitants use the stems of papyrus as material for canoe making. There are many small islands formed by the invasion of moving sand dunes near the northeastern coast; some of them are inhabited and utilized as bases for fishing.
Besides the products of agriculture, livestock grazing and fishery, the drainage basin of L. Chad is known for its yield of natural soda, an activity that contributes to keeping the lake water fresh (Q2).

C. PHYSICAL DIMENSIONS (Q1, Q2)
Surface area [km2]
10,000-25,000
Volume [km3]
72
Maximum depth [m]
10-11
Mean depth [m]
- (North)
4-8
- (South)
2-4
Water level
Unregulated
Normal range of annual water level fluctuation [m]
1
Length of shoreline [km]
500-800
Residence time [yr]
- (North)
2
- (South)
0.5
Catchment area [km2]
2,426,370
Past trend of lake water level (mean above sea level)(3).
D. PHYSIOGRAPHIC FEATURES
D1 GEOGRAPHICAL
Bathymetric map: Fig. AFR-02-02.
Names of main islands

Kindjera, Kalom, Kofia, Kika, Dabouroum, Tebour, Ngelea, Isseirom and Malal (Q2).
Number of outflowing rivers and channels (name)
1 (Bahr el Gazal, drainage only occasional)(Q2).
D2 CLIMATIC
Climatic data at Bol Dune (Q2)
| | Jan | Feb | Mar | Apr | May | Jun | Jul | Aug | Sep | Oct | Nov | Dec | Ann. |
| --- | --- | --- | --- | --- | --- | --- | --- | --- | --- | --- | --- | --- | --- |
| Mean temp. [deg C]*1 | 14.0 | 15.1 | 19.4 | 24.2 | 25.9 | 26.6 | 25.3 | 24.2 | 24.7 | 22.6 | 18.4 | 14.6 | 21.3 |
| Precipitation [mm]*2 | 0 | 0 | 0 | 1 | 12 | 18 | 76 | 210 | 56 | 12 | 0 | 0 | 384 |

*1 13-year mean. *2 8-year mean.
Number of hours of bright sunshine: 3402.2 hr yr-1*.

* 3-year mean.
Solar radiation: 22.6 MJ m-2 day-1.
Bathymetric map (1).
Water temperature: Fig. AFR-02-03.
Seasonal trend of surface water temperature [deg C], Bol-Ile, 1956-1960 (Q1).
E. LAKE WATER QUALITY
E1 TRANSPARENCY: Fig. AFR-02-04.
Trend of transparency, Southern Basin (3).
E2 pH (3)
Southern Basin, 1976
Depth [m]
Jan
Feb
Mar
Apr
May
Jun
Jul
Aug
Sep
Oct
Nov
Dec
S*
7.2
7.2
-
-
7.5
7.5
-
7.7
-
7.7
-
7.9

* Surface.
E4 DO: Fig. AFR-02-05.
Changes in DO percent saturation, Southern Basin (3).
E6 CHLOROPHYLL CONCENTRATION: Fig. AFR-02-06.
Seasonal change of chlorophyll a, Southern Basin, 1973-1974 (4).
F. BIOLOGICAL FEATURES
F1 FLORA
Emerged macrophytes (5)
Phragmites australis subsp. altissimus, Typha australis, Vossia cuspidata, Cyperus papyrus, C. laevigatus, Leersia hexandra, Echinochloa sp.
Floating macrophytes (5)
Pistia stratiotes, Lemna perpusillla, Spirodela polyrhiza, Azolla africana, Nymphaea spp., Ipomoea aquatica, Neptunia oleracea.
Submerged macrophytes (5)
Potamogeton spp., Vallisneria sp., Ceratophyllum demersum, Utricularia spp.
Phytoplankton (6)
Closterium aciculare, Pediastrum, Botryococcus, Microcystis, Anabaena, Melosira granulata, Surirella muelleri.
F2 FAUNA
Zooplankton (4)
Diaphanosoma excisum, Daphnia barbata, Ceriodaphnia cornuta, Moina micrura, Bosmina longirostris, Tropodiaptomus incognitus, Thermocyclops neglectus, T.incisus circusi, Mesocyclops leuckarti.
Benthos (7)
Insecta (Gyptochironomus stilifer, Cloeon fraudu lentum), Oligochaeta (alluroides tanganikae), Nematoda, Mollusca (Cleopatra bulimoides, Corbicula africana).
Fish (6)
Schilbe spp., Citharinus citharus, C. distichodoides, Labeo coubie, alestes spp., Synodontis spp., Tilapia spp., Heterotis niloticus.
F3 PRIMARY PRODUCTION RATE (2)
Biological production in four main natural regions [kg ha-1 yr-1]
Phytoplankton
Gross production: 18,000.
| | South Basin Open water | Archipelago | North Basin Open water | Archipelago |
| --- | --- | --- | --- | --- |
| Copepoda | 159 | 438 | 792 | |
| Mollusca | 77 | 30 | 353 | 136 |
F4 BIOMASS (2)
Biomass in four main natural regions [kg (dry wt.) ha-1]
South Basin Open water
Archipelago
North Basin Open water
Archipelago
Phytoplankton
0.09
4.
133.84
7.28
Macrophytes
11,000
Zooplankton
- Copepoda
2.5
6.9
8.9
Benthos
- Mollusca
25.8
10.6
64.2
33.6
- Worms
2.0
0.8
8.0
1.8
- Insects
0.1
0.6
2.1
1.8
F5 FISHERY PRODUCTS (Q2)
Annual fish catch [metric tons]

1972: 130,000-141,000.
G. SOCIO-ECONOMIC CONDITIONS
G1 LAND USE IN THE CATCHMENT AREA (Q2)
Main types of woody vegetation
Savannah, mountain and accacia, forests especially on the watersheds of main river basins.
Main types of herbaceous vegetation
Swamps of sedges on banks of lake and estuaries of main rivers; also floating Pistia on the lake.
Types of other important vegetation
Occasional palm clumps of Borassus, Hyphaene thebaica and date.
Main kinds of crops and/or cropping systems
Millet, sorghum, maize, rice, onions, tomatoes; mixed cropping and market gardening.
Levels of fertilizer application on crop fields: Moderate.
G2 INDUSTRIES IN THE CATCHMENT AREA AND THE LAKE (Q2)
Main products or major industries
Agriculture: Cotton, groundnut, cassava and millet.
Fisheries: Alestes baremoze and A. dentex.
Manufacturing
Cotton spinning, brewing, leather industry, machinery, milling and food industry.
Mining: Soda.
G3 POPULATION IN THE CATCHMENT AREA (Q2)
Total population: N.A.
Major cities (population): N'Djamena (400,000), Kano, Maiduguri, Maroua.
H. LAKE UTILIZATION
H1 LAKE UTILIZATION (Q2)

Navigation and transportation, fisheries.
M. LEGISLATIVE AND INSTITUTIONAL MEASURES FOR UPGRADING LAKE ENVIRONMENTS
M3 RESEARCH INSTITUTES ENGAGED IN THE LAKE ENVIRONMENT STUDIES (Q2)
Lake Chad Basin Commission (L. C. B. C.), N'Djamena
Lake Chad Research Institute (L. C. R. I.), Maiduguri
N. SOURCES OF DATA
(1) Questionnaire filled by Mr. Olusegun C. Irivboje, Water Resources Section, Lake Chad Basin Commission, N'Djamena.
(2) Questionnaire filled by Dr. M. Nakashima, International Development Centre of Japan, Tokyo.
Carmouze, J.-P. & Lemoalle, J. (1983) The laucustrine environment. "Lake Chad" (ed. Carmouze, J.-P., Durand, J.-R. & Leveque, C.), pp. 27-64. Dr. W. Junk Publishers, The Hague.
Carmouze, J.-P., Durand, J.-R., & Leveque C. (1983) The lacustrine ecosystem during the "Normal Chad" period and the drying phase. Ibid., pp. 527-560.
Carmouze, J.-P., Chantraine, J. M. & Lemoalle, J. (1983) Physical and chemical characteristics of the waters. Ibid., pp. 65-94.
Saint-Jean, L. (1983) The zooplankton. Ibid., pp. 199-232.
Iltis, A. & Lemoalle, J. (1983) The aquatic vegetation of Lake Chad. Ibid., pp. 125-143.
Serruya, C. & Pollinger, V. (1983) Lakes of the Warm Belt. pp. 569. Cambridge University Press, Cambridge.
Leveque, C., Dejoux, C. & Lauzanne, L. (1983) The benthic fauna; ecology, biomass and communities. "Lake Chad" (see above), pp. 233-272.