ABASHIRI-KO (LAKE ABASHIRI)
An aerial view of the whole lake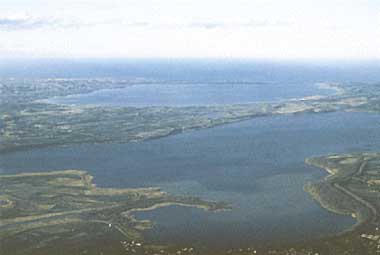 Photo: A.Kurata
A. LOCATION
Hokkaido, Japan.
43:58-44:00N, 144:08-144:14E; 0.4 m above sea level.
B. DESCRIPTION
Lake Abashiri is situated in the northeast part of coastal area of Hokkaido along the Sea of Okhotsk, with 32.5 km2 of surface area, 42 km of shoreline, 16.1 m of maximum depth, 7.2 m of mean depth and 0.4 m of altitude. The lake is covered completely with approximately 1 m thick of ice from the midst of December to the midst of April of the next year.
Abashiri River which flow down from the most southern part of catchment area flows into the lake and flows out again from the northeast end of the lake. The river flows into finally the Sea of Okhotsk with 7 km long of flowing down course from the lake. During winter dry season, very high salinity concentration of saline flows backward from the sea very often to Abashiri River and a part of it flows into the lake. Owing to this phenomenon, a very stable hypolimnion is formed in deeper than 10 m layer with approximately 10,000 ppm chlorine concentration of saline.
Judging from the bottom core samples obtained by boring work at the deepest point of the lake, it is considered that a prototype of lake basin was formed at the last Glacial epoch, approximately 20,000 years ago and then present feature of lake was appeared by long corrosion force of Abashiri River at the Holocene epoch, approximately 6,000 years ago. Many remains of Jomon period (an archaeological term designating the Japanese neolithic cultural period extending from about 8,000 B.C. or earlier to about 200 B.C.) are found in the shallow region of estuary of Memanbetsu River.
Recently, replanning of agricultural land has been practiced in the upstream region of Abashiri River and most of rivers and streams were straighten consequently in the catchment area for the development of paddy fields and the repair work of rivers. Since then, however, siltation becomes serious in the estuary. Lowland crop fields along lakeshore were suffered heavy damage from flood in May, 1975. Hereafter, such damage to the wetland of Abashiri Quasi- national Park and camping site of lakeshore is anxious seriously.
Smelt and trout are most important fish in the lake for sport-fishing throughout the season. Eutrophication, however, has progressed recently by the nutrient loading from mainly agricultural land and forest (1, 3, 8).
C. PHYSICAL DIMENSIONS
| | |
| --- | --- |
| Surface area [km2] | 33 |
| Volume [km3] | 0.2327 |
| Maximum depth [m] | 16.1 |
| Mean depth [m] | 7.2 |
| Water level | Unregulated |
| Length of shoreline [km] | 44 |
| Residence time [yr] | 0.4 |
| Catchment area [km2] | 1,380 |
D. PHYSIOGRAPHIC FEATURES
D1 GEOGRAPHICAL
Sketch map: Fig. ASI-52-01.
Bathymetric map: Fig. ASI-52-02.
Names of main islands: None.
Number of outflowing rivers and channels (name): 1 (Abashiri R.).
D2 CLIMATIC
Climatic data at Nemuro, 1931-1960 (2)
| | Jan | Feb | Mar | Apr | May | Jun | Jul | Aug | Sep | Oct | Nov | Dec | Ann. |
| --- | --- | --- | --- | --- | --- | --- | --- | --- | --- | --- | --- | --- | --- |
| Mean temp. [deg C] | -4.8 | -5.6 | -2.2 | 2.8 | 6.8 | 10.0 | 14.3 | 17.5 | 15.5 | 10.8 | 4.7 | -1.3 | 5.7 |
| Precipitation [mm] | 49 | 40 | 77 | 77 | 99 | 97 | 104 | 106 | 152 | 124 | 92 | 63 | 1,080 |
Number of hours of bright sunshine: 1,953 hr yr-1.
Fig. ASI-52-01
Sketch map of Lake Abashiri and its drainage basin (3).
Fig. ASI-52-02
Bathymetric map [m](4).
Fig. ASI-52-03
Seasonal variation of water temperature [deg C] at lake centre (4).
Freezing period: Middle December-early or middle April.
Mixing type: Dimictic.
Notes on water mixing and thermocline formation

A very high chloride concentration and reduced condition of layer is formed usually under 10.5 m deep layer because of the invasion of seawater from adjacent Sea of Okhotsk to the lake.
E. LAKE WATER QUALITY
E1 TRANSPARENCY
Fig. ASI-52-04
Seasonal variation of transparency [m] at lake centre (4).
E2 pH
Fig. ASI-52-05
Seasonal variation of pH value at lake centre (4).
E4 DO [mg l-1]
Fig. ASI-52-06
Seasonal variation of DO concentration at lake centre (4).
E6 CHLOROPHYLL CONCENTRATION [micro l-1]
Fig. ASI-52-07
Vertical distribution of chlorophyll a, PON and DON concentrations at lake centre, 1983 (5).
Fig. ASI-52-08
Seasonal variation of chlorophyll a concentration at lake centre (4).
E7 NITROGEN CONCENTRATION
Fig. ASI-52-09
Vertical distribution of NH4-N, NO2-N, NO3-N and chlorophyll a concentrations at lake centre, 1983 (5).
E8 PHOSPHORUS CONCENTRATION
Fig. ASI-52-10
Seasonal variation of PO4-P concentration [micro g l-1] at lake centre (4).
E9 CHLORIDE CONCENTRATION
Fig. ASI-52-11
Seasonal variation of chlorine ion concentration [ppm] at lake centre (4).
E10 PAST TRENDS
Fig. ASI-52-12
Annual change of water temperature [deg C], transparency [m], chlorophyll a concentration [micro l-1] and COD value [mg l-1](5).
F. BIOLOGICAL FEATURES
F1 FLORA
Phytoplankton (4)

Cyanophyceae (Dactylococcopsis acicularis, Merismopedia tenuissima, Anabaena flos-aquae var. treleasi, A. scheremetievi), Bacillariophyceae (Melosira varians, M. undulata, M. granulata, M. italica, Cyclotella meneghiniana, C. glomerata, Coscinodiscus lacustris, C. marginatus, C. astromphalus, Stephanodiscus hantzschii, Actynoptychus senarius, Actynocyclus ehrenbergi, Terpsinoe americana, Tabellaria flocculosa, Diatoma vulgare, D. hiemale var. mesodon, D. elongatum, Fragilaria construens, F.japonica, F. vaucheriae, Ceratoneis arcus var. amphioxys, Asterionella gracillima, Synedra ulna, S. ulna var. oxyrhnchus, S. acus, Eunnotia pectinalis var. minor, Cocconeis placentula, C. scutellum, Achnanthes lanceolata, A. lanceolata var. elliptica, A. lanceolata var. rosterata, Rhoicosphenia curvata, Diploneis interrapta, D. smithii, Navicula scutiformis, N. alpha var. longistris, N. gregaria, Pinnularia appendiculata, Amphiprora paludosa, Amphora ovalis, A. coffeiformis, Gyrosigma acuminatum, Cymbella amphicephara, C. ehrenbergii, C. ventricosa, Gomphonema acuminatum, G. olivaceum, Epithmia turgida, E. sorex, Rhopalodia gibba, Bacillaria paradoxa, Nitzschia trybionella, N. trybionella var. levidensis, N. littoralis, Surirella linearis, Stenopterobia intermedia, Chaetoceros didymus), Crysophyceae (Dinobryon cylindrica), Chlorophyceae (Eudorina elegans, Planctonema lauterbornii,Dictyosphaerium ehrenbergianum, Westella botryoides, Closteriopsis longissima, Pediastrum duplex, P. boryanum, Scenedesmus acuminatus, S. quadricauda).
F2 FAUNA
Zooplankton: Bosmina coregoni (4).
Benthos: Corbicula japonica (6).
Fish (6)

Salmo keta, S. masou, Hypomesus transpacificus*, Leucopsarion petersi.
* Economically important.
F4 BIOMASS
Fig. ASI-52-13
Seasonal variation of population density [x1.0E+5 cells l-1], composition and rate of appearance [%] of phytoplankton (4).
F5 FISHERY PRODUCTS (6)
Annual fish catch [metric tons]

1980: 605.
G. SOCIO-ECONOMIC CONDITIONS
G1 LAND USE IN THE CATCHMENT AREA (6)
1990
Area [km2]
[%]
Natural landscape Forest
1,014.3
73.5
Agricultural land Crop field
219.4
15.9
Residential area
23.5
1.7
Others
122.8
8.9
Total
1,380
100
Main types of woody vegetation

Deciduous forest (Betula ermanii, Quercus mongolica, Acer ukurunduense, Cornus controversa) and larch (Larix kaempferi) plantation.
Main kinds of crops: Rice, potato, hay, sugar beet, kidney bean, onion.
Levels of fertilizer application on crop fields: Moderate.
G3 POPULATION IN THE CATCHMENT AREA (7)
Population
Population density [km-2]
Major cities (population)
Rural
17,300
12.5
None
Total
17,300
H. LAKE UTILIZATION (3)
H1 LAKE UTILIZATION
Source of water, fisheries, sightseeing and tourism, recreation (sport- fishing).
H2 THE LAKE AS WATER RESOURCE (1990)
| | Use rate [m3 sec-1]* |
| --- | --- |
| Irrigation | 7.0 |

* 1 May - 31 August.
I. DETERIORATION OF LAKE ENVIRONMENTS AND HAZARDS (3)
I1 ENHANCED SILTATION
Extent of damage: Serious.
I2 TOXIC CONTAMINATION
I3 EUTROPHICATION
Nuisance caused by eutrophication

Unusual algal blooms of blue-green algae.
Nitrogen and phosphorus loadings to the lake [t day-1]
Sources
Total
Fine day
Rainy day
T-N
0.66
3.01
T-P
0.01
0.45
I4 ACIDIFICATION
J. WASTEWATER TREATMENTS
J1 GENERATION OF POLLUTANTS IN THE CATCHMENT AREA
(d) Measurable pollution with limited wastewater treatment.
L. DEVELOPMENT PLANS (6)
None.
M. LEGISLATIVE AND INSTITUTIONAL MEASURES FOR UPGRADING LAKE
ENVIRONMENTS
M1 NATIONAL AND LOCAL LAWS CONCERNED
For national laws see "Biwa-ko".
N. SOURCES OF DATA
Hirai, Y. (1991) Lake Abashiri (Abashiri-ko). "Bird-eye view of Japanese Lakes (Sorakara miru Nippon no kosho)" (ed. Okuda, S., Kurata, A., Nagaoka, M. & Sawamura, K.), pp. 18-20, Maruzen Co. Ltd., Tokyo.*
Arakawa, H. & Taga, S. (1969) Climate of Japan. "World Survey of Climatology, Volume 8, Climates of Northern and Eastern Asia" (ed. Arakawa, H.), pp. 119-158. Elsevier Publishing Company, Amsterdam-London- New York.
Fukuyama, R., Sakata, K. & Murata, K. (1990) Annual Report of Hokkaido Public Pollution Prevention Institute (Hokkaido Kogai Boshi Kenkyusho ho), 17, 29-41.*
Nakamura, Y., Aoi, T. & Kurogi, M. (1980) Journal of Environmental Science of Hokkaido University (Kankyo kagaku, Hokkaido Daigaku), 3 (1), 35-45.*
Sakata, K., Aoi, T., Murata, K., Kondo, H., Hino, S. & Konishi, K. (1984) Annual Report of Hokkaido Public Pollution Prevention Institute (Hokkaido Kogai Boshi Kenkyusho ho), 11, 52-65.*
All Japan Promotion Committee for Conservation of Lake Environments (Zenkoku kosho kankyo hozen taisaku suishin kyogi kai)(1989) Data Book of Japanese Lake Environments (Zenkoku kosho shiryo shu). pp. 4-5.*
Japanese Geographical Institute ( Nihon Chishi Kenkyu sho)(1981) Geography of Japan (Nihon chishi), 2, p. 116, Ninomiya shoten, Tokyo.*
The editor's observation.

* Printed in Japanese. The titles are tentatively translated into English with the original titles in romanized Japanese in parentheses.