TAI-HU
An evening view on the lake near Wuxi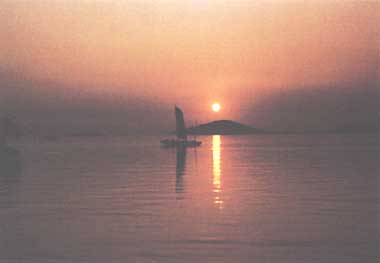 Photo: M. Akiyama
A. LOCATION
Jiangsu Province, P.R. China.


30:56-31:34N, 119:54-120:36E; 3.1 m above sea level.


B. DESCRIPTION
Tai (great)-hu (lake) is the third largest freshwater lake of China, below in size Lakes Poyang and Dongting, situated about 100 km from the east coast of the Chang Jiang delta in central China. The whole lake is under the administration of Jiangsu Province, though its southern coast belongs to the neighboring province, Zhejang. It is located in the densely populated fertile plain of the delta known for its complicated network of small lakes, ponds, streams and man-made canals, including the Grand Canal built in the 7th century to connect Beijing with Hangzhou in Zhejang.
The inflowing water comes mainly from mountains to the west and southwest of the lake, while the draining rivers start mostly from the east coast of the lake. Several rivers and channels connect the lake with Chang Jiang, but the water flux is controlled by dams to maintain the lake water level within a range of fluctuation of 2-3 meters.
The lake is famous for its abundant production of fishes and crabs, and the aquaculture farms on the coast that apply skillful techniques. In addition to supporting heavy boat traffic, Tai-hu provides some of the best known water- side scenery in China for domestic and foreign sightseeing visitors.
Tai-hu and its effluent rivers are important sources of water for the inhabitants and rapidly increasing industrial factories in Shanghai, Wuxi, Suzhou and other neighboring cities, so that the pollution of the lake is a serious social concern. The pollutants originate mainly from home sewage of the vast number of inhabitants, agricultural pesticides applied over fields in the drainage basin, and the industrial sewage of more than 700 factories and mines. The Film Studio, Tanshan Ore Dressing Plant, West-hill Mines and the Wuxi No.3 Instrument and Metal Plant discharge 2,750 tons per day of waste water directly into the lake. Phenol, mercury, chromium etc. are widely detected over the lake, but at fairly low concentrations. The lake water is also highly eutrophic, with frequent blooms of blue-green algae even in late autumn (1, 2).
C. PHYSICAL DIMENSIONS (1, 2)
| | |
| --- | --- |
| Surface area [km2] | 2,428 |
| Volume [km3] | 4.3 |
| Maximum depth [m] | 2.6 |
| Mean depth [m] | 1.9 |
| Residence time [yr] | <0.8 |
D. PHYSIOGRAPHIC FEATURES
D1 GEOGRAPHICAL
Bathymetric map: Fig. ASI-26-01.


Number of outflowing rivers and channels (name): 2 (Dapu R. and Wusong R.).


D2 CLIMATIC
Climatic data at Suzhou, 1956-1958 (1)


| | Jan | Feb | Mar | Apr | May | Jun | Jul | Aug | Sep | Oct | Nov | Dec | Ann. |
| --- | --- | --- | --- | --- | --- | --- | --- | --- | --- | --- | --- | --- | --- |
| Mean temp. [deg C] | 2.9 | 3.7 | 8.1 | 15.1 | 18.7 | 24.7 | 29.9 | 27.3 | 22.8 | 16.7 | 11.3 | 6.3 | 15.6 |
| Precipitation [mm] | 38 | 61 | 51 | 91 | 99 | 156 | 152 | 104 | 93 | 42 | 48 | 40 | 974 |
Fig. ASI-26-01
Bathymetric map (1).
Water temperature [deg C](1)


Dapu, 1959
Depth [m]
Jan
Feb
Mar
Apr
May
Jun
Jul
Aug
Sep
Oct
Nov
Dec
S*
2.5
5.8
11.0
15.1
20.0
24.8
29.9
30.2
24.2
19.5
12.4
7.2

* Surface.
Freezing period: None.


Notes on water mixing and thermocline formation
Not formed; surface water temperature may rise very high on calm summer days with strong sunshine.
Fig. ASI-26-02
Vertical distribution of water temperature [deg C] on summer days (near Sanshan Island)(1). 1: 21:00 on 10 July 1960. 2: 17:00 on 9 July 1960. 3: 11:30 on 2 July 1960.
E. LAKE WATER QUALITY
E1 TRANSPARENCY [m](1)
July-August: 0.15-1.00.

E2 pH (2)
Surface water: 8.0.

E3 SS [mg l-1](1)
Suspended mud: 50.

E4 DO [mg l-1](2)
9.56.

E5 COD [mg l-1](2)
1.04-5.21.

E7 NITROGEN CONCENTRATION (2)
F. BIOLOGICAL FEATURES
F1 FLORA
Emerged macrophytes (4)
Phragmites communis, Zizania latifolia, Alternanthera philoxeroides.
Floating macrophytes (4)
Eichhornia crassipes, Trapa incisa var. quadricaudata, Euryale ferox.
Submerged macrophytes (4)
Vallisneria spiralis, Potamogeton malaianus, Hydrilla verticillata.
Phytoplankton (3)
Microcystis flos-aquae, M. aeruginosa, Anabaena flos-aquae, Aphanizomenon flos-aquae, Melosira spp.
F2 FAUNA (3)
Zooplankton
Difflugia spp., Tintinnopsis spp., Polyarthra sp., Brachionus spp., Keratella spp., Bosmia fatalis, B. longirostris, Ceriodaphinia cornuta, Diaphanosoma sarsi, D. brachyurum.
Benthos: Corbicula fluminea, Stenothyra glabra, Viviparus guadratus.


Fish*
Coilia brachygnathus, Protosalanx hyalocranius, Neosalanx tankahkeii taihuensis, Mylopharyngodon piceus, Ctenopharyngodon idellus, Hypophthalmicthys molitrix, Aristichthys nobilis, Cyprinus carpio, Carassius auratus auratus, Megalobrama spp., Parabramis pekinensis, Erythroculter spp., Hemibarbus maculatus, Eleotris fusca, Sinipera spp., Ophiocephalus argus, Anguilla japonica, etc. * All economically important.
F5 FISHERY PRODUCTS (1)
Annual fish catch [metric tons]
1979: 13,696*. * Converted from the local weight unit [jin] at a rate of 1 jin=0.5 kg.
G. SOCIO-ECONOMIC CONDITIONS
G1 LAND USE IN THE CATCHMENT AREA* (5)
Area [km2]
[%]
Natural landscape
- Woody vegetation
Very limited
N.A.
- Herbaceous vegetation
Very limited
N.A.
- Swamp
N.A.
N.A.
Agricultural land
- Crop field
14,400
39.6
Residential area
N.A.
N.A.
Total
36,355
100.0

*Data for the drainage basin proper were not available. "Tai-hu Plain" includes, in addition to plain part of the drainage basin, the area drained by the effluent rivers of Tai-hu as far east as Shanghai.
Types of important forest (main species of trees) (6)
Pine forest (Pinus massoniana); bamboo forest (Phyllostachys pubescens); mixed evergreen-deciduous scrub.
Types of important herbaceous vegetation (5)
Swampy grassland of reeds and other emerged water plants on the lake shore and along water courses.
Main kinds of crops (1, 5)
Rice (single or double cropping), wheat, rapeseed, tea, mulberry, fruit trees (peach, orange, loquat, myrica, plum, Japanese apricot (Prunus mume), jujube).
G2 INDUSTRIES IN THE CATCHMENT AREA AND THE LAKE
Agricultural production [t yr-1](5)
Grain (11.5 million), cotton (125,000), rapeseed (290,000), fruits (60,000), pig (10 million heads), silkworm cocoon (50,000).
Fisheries production [t yr-1](1)
13,696 (fish, crab, shrimp).
Number of industrial factories (2)
About 700 (Film studio, ore dressing plant, instrument and metal plant, traditional handicraft (embroidery, silk, etc.)).
Tertiary industry (2): Hotels, sanatoriums, etc.


G3 POPULATION IN THE CATCHMENT AREA*1
1983
Population
Population density [km-2]
Major cities (population)

*1 Tai-hu plain.
*2 Approximate number for urban areas only.
H. LAKE UTILIZATION
H1 LAKE UTILIZATION
Fisheries, navigation and tourism.
N. SOURCES OF DATA
Nanjing Institute of Geography, Academia, Sinica (1982) Lakes of Jiangsu Province. 220 pp. Jiangsu Science and Technology Publisher, Nanjing.*
Liu, Hongliang (1982) The pollution state of four big freshwater lakes in China. Mimeographed manuscript.
The staff of the Nanjing Institute of Geography, Academia Sinica, Nanjing, China. Personal communication.
Dai, Quanyu (1983) Monitoring of heavy metals in macrophytes and assessment of lacustrine environmental quality of Tai-hu Lake. Acta Scientiae Circumstantiae, 3 (3): 213-221 (in Chinese with English summary).
She, Z., Chen, Y. & Tanag, Z. (1983) Land use on the Lake Tai-hu Poain. Land Resources of the People's Republic of China; Resource Systems Theory and Methodology (ed. Ruddle, K. & Wu, C.), pp. 31-36. The United Nations University, Tokyo.
Botanical Institute, Academia, Sinica (1979) Vegetation Map of the People's Republic of China. Map Publisher, Beijing.*

* Printed in Chinese; tentatively translated into English.