OWASCO LAKE
A view from the northwestern shore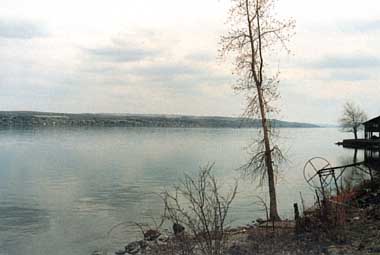 Photo: C. Roaano
A. LOCATION
New York, USA. 42:2 N, 76:2 W; 216.7 m above sea level.
B. DESCRIPTION
Owasco Lake is one of a group of long and narrow lakes located in western New York State known as the Finger Lakes. The basins of these north-south oriented lakes were formed by the advance of ice masses during the Ice Ages, and further sculpted by glacial meltwater during the interglacial and postglacial periods. The lake possesses the long, narrow and deep proportions characteristic of the Finger Lakes with a length of 17.9 km, mean width of 1.49 km, and a mean depth of 29.3 m. Although the Finger Lakes region is now well-known for its many vineyards and orchards, it had been densely forested up until the early 1800's when large areas were cleared for agriculture by white settlers. The forests are now in the process of expanding as marginal farmland is abandoned and gradually invaded by trees. Farming is the major land use component of Owasco Lake's 470 km2 drainage basin. Approximately half of the land is actively farmed, one-third is forested and 2% is residential. The climate of Owasco Lake is characterized by cold, snowy winters and warm, dry summers; and the lake regularly freezes over in the winter. The lake supports a well-developed sport-fishing. Stocking, catch regulation and habitat improvement are the principal management tools in use. Rainbow trout and brown trout are quite abundant in the lake (1).
C. PHYSICAL DIMENSIONS (1)
| | |
| --- | --- |
| Surface area [km2] | 27 |
| Volume [km3] | 0.7807 |
| Maximum depth [m] | 54.0 |
| Mean depth [m] | 29.3 |
| Catchment area [km2] | 539 |
D. PHYSIOGRAPHIC FEATURES
D1 GEOGRAPHICAL (1)
Bathymetric map: Fig. NAM-18-0l. Names of main islands: None. Number of outflowing rivers and channels (name): 1.
D2 CLIMATIC
Climatic data at Ithaca (2)
Mean temp. [deg C]
Jan
Feb
Mar
Apr
May
Jun
Jul
Aug
Sep
Oct
Nov
Dec
Ann.
-4.4
-3.9
0.6
7.2
12.8
18.3
20.5
20.0
16.1
10.6
3.9
-2.8
8.2
Precipitation [mm]
Jan
Feb
Mar
Apr
May
Jun
Jul
Aug
Sep
Oct
Nov
Dec
Ann.
52
56
68
77
94
89
95
98
79
84
74
58
924
Number of hours of bright sunshine (Binghamton): 612 hr yr-1 (3). Snowfall (Binghamton): 132 mm (3). Solar radiation: 13.4 MJ m-2 day-1 (2). Water temperature [deg C](1) 1973
Depth[m]
Jan
Feb
Mar
Apr
May
Jun
Jul
Aug
Sep
Oct
Nov
Dec
S*1
-
-
-
8.5
-
-
22.8
23.5
-
-
-
-
B*2
-
-
4.8
-
-
6.8
6.4
-
-
-
-
-
End

*1 Surface. *2 Near bottom.
Mixing type: Monomictic (1).
Fig. NAM-18-01
Bathymetric map (1).
E. LAKE WATER QUALITY (1)
E1 TRANSPARENCY [m]: Fig. NAM-18-02.
Fig. NAM-18-02
Seasonal Secchi disc transparency [m].
E6 CHLOROPHYLL CONCENTRATION [micro g l-1]: Fig. NAM-18-03.
Fig. NAM-18-03
Seasonal changes in chlorophyll a and phaeopigments.
E7 NITROGEN CONCENTRATION NO3-N [micro g l-1]: Fig. NAM-18-04.
Fig. NAM-18-04
Seasonal change in NO3-N.
E8 PHOSPHORUS CONCENTRATION PO4-P [micro g l-1]: Fig. NAM-18-05.
Fig. NAM-18-05
Seasonal change in PO4-P.
F. BIOLOGICAL FEATURES (1)
F1 FLORA
Submerged macrophytes Heteranthera dubia, Elodea canadensis, Vallisneria americana, Myriophyllum spicatum, Potamogeton amplifolius, Chara sp. Phytoplankton Quadrigula lacustris, Scenedesmus bijuga, Staurastrum gracile, S. natator var. crassum, Cryptomonads, Dinobryon spp., Chromulina spp., Peridinium cinctum, Gymnodinium caudatum.
F2 FAUNA
Zooplankton Diaptomus minutus, Epischura nordenskioldi, Bosmina longirostris, Daphnia longiremis, Difflugia oblonga, Ascomorpha sultans, Keratella cochlearis, Ploesoma hudsoni, Polyarthra euryptera. Benthos Pontoporeia hoyi, Chironomus, Tanypus, Palpomyia, Protenthes, Sphaerium. Fish Alosa pseudoharengus, Salmo gairdneri, Notemigonus chrysoleucas, Hypentelium nigricans, Ictalurus nebulosus, Ambloplites rupestris, Micropterus dolomieu, Perca flavescens, Salvelinus namaycush, Lepomis macrochirus.
F4 BIOMASS: Fig. NAM-18-06, 07 and 08.
Fig. NAM-18-06
Seasonal distribution of phytoplankton biomass and the relative contribution of the various taxonomic groups.
Fig. NAM-18-07
Seasonal changes in zooplankton and the relative contribution of the various taxonomic groups.
Fig. NAM-18-08
Total zooplankton volumetric abundance.
G. SOCIO-ECONOMIC CONDITIONS (1)
G1 LAND USE IN THE CATCHMENT AREA
Area [km]
[%]
Natural landscape
Forest
164.4
35
Agricultural land
Active agriculture
227.6
48
Inactive agriculture
70.5
15
Residential area
7.5
2
Total
470.0
100
Main types of woody vegetation (main species) Elm-red maple-northern hardwoods (Ulmus americana, Acer rubrum), Northern hardwoods (Fagus gradifolia, Acer saccharum).
G3 POPULATION IN THE CATCHMENT AREA
Total no.
Increase
Population density
1930
1970
[%]
[km-2]
8,677
13,198
52
28.1
I. DETERIORATION OF LAKE ENVIRONMENTS AND HAZARDS (1)
I3 EUTROPHICATION
Nitrogen and phosphorus loading to the lake [g m-2 yr-1] T-P: 0.97.
Fig. NAM-18-09
Nitrogen loadings (LSN) to eight of the Finger Lakes.
J. WASTEWATER TREATMENTS (1)
J1 GENERATION OF POLLUTANTS IN THE CATCHMENT AREA
f) The Owasco Inlet has fairly good quality when it enters the lake, even though it receives treated sewage from the villages of Groton (primary) and Moravia (secondary). There are no significant industrial or municipal discharges directly into the lake. Cottage development is heavy along the shore, with some of the dwellings adding their wastes directly to the lake.
N. SOURCES OF DATA
Schaffner, W. R., & Oglesby, R. T. (1978) Limnology of eight Finger Lakes: Hemlock, Canadice, Honeoye, Keuka, Seneca, Owasco, Skaneateles, and Otisco. "Lakes of New York State 1, Ecology of the Finger Lakes" (ed. Bloomfield, J. A.), pp. 313-470. Academic Press, New York, San Francisco, London.
Oglesby, R. T. (1978) The limnology of Cayuga Lake. Ibid. pp. 1-120.
Court, A (1974) The climate of the conterminous United States. "World Surveys of Climatology, Volume 11, Climates of North America" (ed. Bryson, R. A. & Hare, F. K.), p. 312. Elsevier Scientific Publishing Company, Amsterdam-London-New York.