HEMLOCK LAKE
Looking north ward from th south-western shore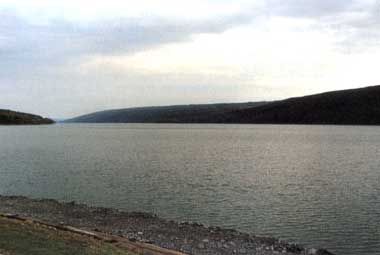 Photo: C. Rossano
A. LOCATION
New York, USA. 42:7 N, 77:7 W; 275.8 m above sea level.
B. DESCRIPTION
Hemlock Lake is one of a group of long and narrow lakes located in western New York State known as the Finger Lakes. The basins of these north-south oriented lakes were formed by the advance of ice masses during the Ice Ages, and further sculpted by glacial meltwater during the interglacial and postglacial periods.
Although Hemlock Lake is relatively small, it possesses the proportions characteristic of the Finger Lakes with a length of 10.8 km, mean width of 0.7 km, mean depth of 13.6 m, and a very steep slope of 7.8%. Although the Finger Lakes region is now well-known for its many vineyards and orchards, it had been densely forested up until the early 1800's when large areas were cleared for agriculture by white settlers. The forests are now in the process of expanding as marginal farmland is abandoned and gradually invaded by trees.
Of Hemlock Lake's 96 km2 drainage basin, approximately two-thirds is still forested, one-fourth is actively farmed, and 1% is residential. The climate of Hemlock Lake is characterized by cold, snowy winters and warm, dry summers; and the lake regularly freezes over in the winter. The lake has served as a water supply for the city of Rochester for more than 100 years. The city owns all of the lakeshore property, and maintains strict control over the watershed area. In order to protect this water supply, cottages were removed for some distance back of the shores, the water level was raised and stabilized, and boats and motor sizes were limited (1).
C. PHYSICAL DIMENSIONS
| | |
| --- | --- |
| Surface area [km2] | 7 |
| Volume [km3] | 0.10589 |
| Maximum depth [m] | 27.5 |
| Mean depth [m] | 13.6 |
| Water level | Regulated |
| Residence time [yr] | 2.0 |
| Catchment area [km2] | 111 |
D. PHYSIOGRAPHIC FEATURES
D1 GEOGRAPHICAL (1)
Bathymetric map: Fig. NAM-12-0l. Names of main islands: None. Number of outflowing rivers and channels (name): 1.
D2 CLIMATIC
Climatic data at Hemlock, 1969-1974 (2) Mean temp. [deg C]
Jan
Feb
Mar
Apr
May
Jun
Jul
Aug
Sep
Oct
Nov
Dec
Ann.
-
-5.4
-
-
-
-
21
-
-
-
-
-
8.19
Precipitation [mm](1968-1974): 594-1,017 (2). Solar radiation (Genesco, 1975): 1.2*1-25.4*2 MJ m-2 day-1 (2). *1 January. *2 July.
Fig. NAM-12-01
Bathymetric map [m](1).
Mixing type: Monomictic (1).
E. LAKE WATER QUALITY (1)
E1 TRANSPARENCY [m]: Fig. NAM-12-02.
Fig. NAM-12-02
Seasonal Secchi disc transparency at the centre of the lake [m].
E6 CHLOROPHYLL CONCENTRATION [micrgo g l-1]: Fig. NAM-12-03.
Fig. NAM-12-03
Seasonal changes in chlorophyll a and phaeopigments [micro g l-1].
E7 NITROGEN CONCENTRATION NO3-N [micro g l-1]: Fig. NAM-12-04.
Fig. NAM-12-04
Seasonal change in NO3-N [micro g l-1].
E8 PHOSPHORUS CONCENTRATION PO4-P [micro g l-1]: Fig. NAM-12-05.
Fig. NAM-12-05
Seasonal change in PO4-P [micro g l-1].
F. BIOLOGICAL FEATURES (1)
F1 FLORA
Phytoplankton Cosmarium bioculatum, Scenedesmus bijuga, Selenastrum minutum, Tetraedron minimum, Cryptomonas erosa, Gymnodinium caudatum, Peridinium cinctum, Anabaena flos-aquae, Gomphosphaeria lacustris.
F2 FAUNA
Zooplankton Diaptomus minutus, Cyclops vernalis, Ceriodaphnia pulchella, Daphnia pulex, Difflugia lebes, Asplanchna priodonta, Gastropus minor, Keratella quadrata, Ploesoma lenticulare, Polyarthra vulgaris. Benthos Pontoporeia hoyi, Chironomus, Tanypus, Palpomyia, Protenthes, Sphaerium. Fish Alosa pseudoharengus, Salmo trutta, Osmerus mordax, Esox lucius, Cyprinus carpio, Notemigonus chrysoleucas, Ambloplites rupestis, Micropterus dolomieui, M. salmoides, Perca flavescens.
F4 BIOMASS: Fig. NAM-12-06 and 07.
Fig. NAM-12-06
Seasonal distribution of phytoplankton biomass [g m-3] and the relative contribution of the various taxonomic groups.
Fig. NAM-12-07
Seasonal changes in zooplankton biomass [mg m-3] and the relative contribution of the various taxonomic groups.
G. SOCIO-ECONOMIC CONDITIONS (1)
G1 LAND USE IN THE CATCHMENT AREA
1971
Area [km2]
[%]
Natural landscape
Forest
62.8
65
Agricultural land
Active agriculture
24.2
25
Inactive agriculture
8.5
9
Residential area
0.7
1
Total
96.2
100
Main types of woody vegetation (main species) Oak/northern hardwoods (Quercus spp., Carya spp.).
G3 POPULATION IN THE CATCHMENT AREA
Total no.
Increase
Population density
1930
1970
[%]
[km-2]
836
1,186
42
12.3
I. DETERIORATION OF LAKE ENVIRONMENTS AND HAZARDS (1)
I3 EUTROPHICATION
Nitrogen and phosphorus loadings to the lake [g m-2 yr-1] T-P: 0.43.
Fig. NAM-12-08
[g N m-2 yr-1](1) Nitrogen loadings (LSN)* to eight of the Finger Lakes. * Specific nitrogen loading.
N. SOURCES OF DATA
Schaffner, W. R. & Oglesby, R. T. (1978) Limnology of eight Finger Lakes: Hemlock, Canadice, Honeoye, Keuka, Seneca, Owasco, Skaneateles, and Otisco. "Lakes of New York State 1, Ecology of the Finger Lakes" (ed. Bloomfield, J. A.), pp. 313-470. Academic Press, New York, San Francisco, London.
Forest, H. S., Wade, J. Q. & Maxwell, T. F. (1978) The Limnology of Conesus Lake. Ibid., pp. 121-224.