CONESUS LAKE
A view from the eastern lakeshore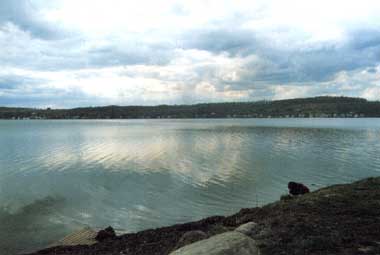 Photo: C. Rossano
A. LOCATION
New York, USA. 42:7 N, 77:3 W; 249.3 m above sea level.
B. DESCRIPTION
Conesus Lake is the westernmost of a group of long and narrow lakes located in western New York State known as the Finger Lakes. The basins of these north- south oriented lakes were formed by the advance of ice masses during the Ice Ages, and further sculpted by glacial meltwater during the interglacial and postglacial periods.
The climate of Conesus Lake is characterized by cold, snowy winters and warm, dry summers; and the lake regularly freezes over in the winter. Although the Finger Lakes region is now well-known for its many vineyards and orchards, it had been densely forested up until the early 1800's when large areas were cleared for agriculture by white settlers. The forests are now in the process of expanding as marginal farmland is abandoned and gradually invaded by trees. Of the land contained within the drainage basin of Conesus Lake, approximately half is considered active agriculture, 30% is forested, and 3% is residential.
Historically, the lakeshore has served mainly as a location of summer cottages. But over the past few decades, the situation has shifted from a summer recreation orientation to year-round residential use. Today, the entire shoreline is residential, occupied largely by commuters to nearby cities. In 1969, an advanced treatment plant was built on the Conesus Outlet to serve local needs. This was followed by the construction of an interceptor sewer surrounding the lake. By 1972, all individual disposal systems around the lake had been connected to the new perimeter sewer.
The water of Conesus Lake serves as a municipal water supply for several villages and towns. And, although there is little public access to the lake, local residents enjoy swimming and boating, as well as both summer and winter fishing. Native species of perch, walleye, northern pike, and bass constitute the bulk of the fish community. Although the lake is a relatively productive lake, grazing primarily by a single crustacean, Daphnia, helps keep the open water quite clear most of the time (1).
C. PHYSICAL DIMENSIONS (1)
| | |
| --- | --- |
| Surface area [km2] | 13 |
| Volume [km3] | 0.1568 |
| Maximum depth [m] | 20.2 |
| Mean depth [m] | 11.5 |
| Water level | Unregulated |
| Length of shoreline [km] | 29.6 |
| Residence time [yr] | 3.2 |
| Catchment area [km2] | 168 |
D. PHYSIOGRAPHIC FEATURES
D1 GEOGRAPHICAL (1)
Bathymetric map: Fig. NAM-11-0l. Names of main islands: None. Number of outflowing rivers and channels (name): 1 (Conesus Outlet Creek).
D2 CLIMATIC
Climatic data at Hemlock, 1969-1974 (1) Mean temp. [deg C]
Jan
Feb
Mar
Apr
May
Jun
Jul
Aug
Sep
Oct
Nov
Dec
Ann.
-
-5.4
-
-
-
-
21
-
-
-
-
-
8.19

Precipitation [mm](1968-1974): 594-1,017.
Solar radiation (Genesco, 1975): 1.2*1-25.4*2 MJ m-2 day-1 (1). *1 January. *2 July.
Fig. NAM-11-01
Bathymetric map [m](1).
Water temperature: Fig. NAM-11-02.
Fig. NAM-11-02
Temperature variation in the lake (2).
Freezing period: Late December-middle or late March (1). Mixing type: Dimictic (1).
E. LAKE WATER QUALITY
E1 TRANSPARENCY [m](1)
Summer
Autumn
Winter and spring overturn
Mean
Range
Mean
Range
Mean
Range
1972
4.7
1.8-7.0
2.4
1.5-3.9
3.3
2.0-4.5
1973
5.1
3.6-7.0
-
-
-
-
E4 DO [mg l-1]: Fig. NAM-11-03.
Fig. NAM-11-03
Dissolved oxygen in the lake (2).
E6 CHLOROPHYLL CONCENTRATION [micro g l-1]: Fig. NAM-11-04.
Fig. NAM-11-04
Chlorophyll a in the lake (3).
E7 NITROGEN CONCENTRATION (3)
NO3-N [micro g l-1]: Fig. NAM-11-05.
Fig. NAM-11-05
Nitrate nitrogen in the lake (upper 10 m).
E8 PHOSPHORUS CONCENTRATION
PO4-P [micero g l-1]: Fig. NAM-11-06.
Fig. NAM-11-06
PO4-P in the lake (upper 10 m)(3).
Total-P [mg l-1]: Fig. NAM-11-07.
Fig. NAM-11-07
Total-P in the lake (weighted mean). Annual mean: 0.037 mg l-1 (1).
F. BIOLOGICAL FEATURES
F1 FLORA (1)
Emerged macrophytes Nuphar variegatum, Sagittaria latifolia, S. rigida, Scirpus acutus, S. americanus, S. validus, Sparganium chlorocarpum, S. eurycarpum. Floating macrophytes Limna minor, L. trisulca, Nymphea odorata, Volffia punctata. Submerged macrophytes Ceratophyllum demersum, Elodea canadensis, Heteranthera dubia, Myriophyllum exalbescens, Najas flexilis, Potamogeton amplifolius, P. angustifolius, Ranunculus trichophyllus, Utricularia vulgaris var. americana, Vallisneria americana. Phytoplankton Oocystis lacustris, Dimorphoccus lunatus, Cosmarium reniforme, Cryptomonas erosa, Ceratium hirundinella, Asterionella formosa, Fragilaria crotonensis, Melosira granulata, Tabellaria fenestrata, Anabaena flos-aquae, Aphanizomenon flos-aquae, Lyngbya limnetica.
F2 FAUNA (1)
Zooplankton Diaptomus minutus, D. sicilis, Cyclops bicuspidatus, Mesocyclops edax, Daphnia pulex, Leptodora kindtii, Difflugia lebes, Asplanchna priodonta, Monostyla quadridentata. Benthos Dugesia tigrina, Aeolosoma beddardi, Chaetogaster limnaei, Gammarus fasiatus, Cambarus bartoni, Isotomurus sp., Atherix variegata, Anodonta sp., Pleurocera acuta. Fish Esox lucius, Cyprinus carpio, Catostomus commersonii, Ictalurus nebulosus, Lepomis gibbosus, L. macrochirus, Micropterus dolomieui, M. salmoides, Perca flavescens, Stizostedion vitreum vitreum. Supplementary notes on the biota The elements of the ecosystem, the species, food webs, physical settings, are not unique for the entire Finger Lakes region, but the presence of so many diverse elements within the watershed of a smaller lake is noteworthy.
F4 BIOMASS: Fig. NAM-11-08 and 09 (3, 4).
Fig. NAM-11-08
Phytoplankton biomass in the lake (upper 10 m).
Fig. NAM-11-09
Zooplankton population level in the lake.
G. SOCIO-ECONOMIC CONDITIONS
G1 LAND USE IN THE CATCHMENT AREA: Fig. NAM-11-10 (1).
Fig. NAM-11-10
Conesus Lake watershed land use map.
Main types of woody vegetation (main species) Hardwood/conifer forest (Tsuga canadensis, Pinus strobus), swamp maple forest (Acer rubrum, A. saccharinum, Fraxinus americana). Main kinds of crops: Wheat, maize, oats, dry beans. Levels of fertilizer application on crop fields Heavy (in 1974 added fertilizer could no longer be translated into cash profit). Trends of change in land use The most notable change from 1930 to 1970 was the increased number of residences around the lake. When weighted for increased occupancy, following World War II, the population during 1930-1970 increased fivefold to its present level of more than 5000. In comparison to residential use, the level of use for agriculture has been extraordinarily stable. In 1969, the average farm had been held by the owning family for 40 years, and principal products of today are recognizable from 1860.
G3 POPULATION IN THE CATCHMENT AREA (2) 1975
Population
Major cities
Population
density [km-2]
(population)
Total
4,180
24.9
Conesus, Livonia,Geneseo,
Groveland
H. LAKE UTILIZATION (1)
H1 LAKE UTILIZATION
Source of water, tourism and recreation (sport-fishing, hunting).
H2 THE LAKE AS WATER RESOURCE
Use rate: ca. 2,700,000 [m3 yr-1].
I. DETERIORATION OF LAKE ENVIRONMENTS AND HAZARDS
I3 EUTROPHICATION (1, 2)
Nuisance caused by eutrophication 1972 Unusual algal bloom: Aphanizomenon-Melosira. Nitrogen and phosphorus loadings to the lake [g m-2 yr-1]
Source
Total
T-N
10.4
T-P
0.67*

* From Mills (1975).
J. WASTEWATER TREATMENTS (1)
J3 SANITARY FACILITIES AND SEWERAGE
All individual disposal systems around the lake were connected to the perimeter sewer by 1973.
K. IMPROVEMENT WORKS IN THE LAKE (1)
Kl RESTORATION Dredging in the lake near its outlet and the outlet stream itself to the benefit of flood control.
N. SOURCES OF DATA
Forest, H. S., Wade, J. Q. & Maxwell, T. F. (1978) The limnology of Conesus Lake. "Lakes of New York State 1, Ecology of the Finger Lakes" (ed. Bloomfield, J. A.), pp. 1121-224. Academic Press, New York.
Mills, E. L. (1975) Ph. D. Thesis, Dept. of Natural Resources, Cornell University, Ithaca, New York.
Oglesby, R. T., Schaffner, W. R., & Mills, E. L. (1975) Tech. Rep. No. 94, Cornell Univ. Water Resour. and Mar. Sci. Cent., Ithaca, New York.
Chamberlain, H. D. (1975) Ph. D. Thesis, Dept. of Natural Resources, Cornell University, Ithaca, New York.