LAKE WINNIPEG
Swimming beach in the provincial park in the south basin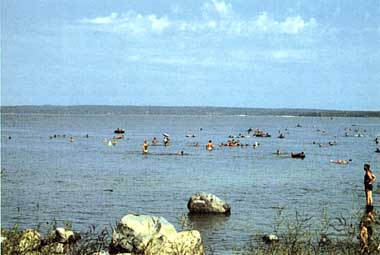 Photo: A. Kurata
A. LOCATION
Manitoba, Canada. 50:3 -53:0 N, 96:2 -99:1 W; 217 m above sea level.
B. DESCRIPTION
Lake Winnipeg is located on the northern fringe of the Canadian prairie where endless wheat fields and grasslands dotted with grazing cattle are characteristic of the landscape. The lake itself is surrounded by dense stands of elm, ash, basswood, maple and aspen, which bring, fleetingly, their gorgeous rich autumn color to the scenery.
The lake is composed of two basins; a wide north basin and a narrow south basin. The Nelson River, the only outflow of this lake, proceeds northward from the north basin to Hudson Ray. On.the other hand, the Red River flows into the south basin with abundant loads of mud and nutrients washed out from the prairie. The city of Winnipeg is situated in the upper reaches of the Red River in the heart of Manitoba. The lake is so shallow in spite of its extensive area that the water remains always muddy due to wave and turbulent mixing by strong winds. The population density in the drainage basin is still very low, but the lake has been fairly eutrophicated by nutrient loading of the Red and other inflowing rivers.
C. PHYSICAL DIMENSIONS (1)
| | |
| --- | --- |
| Surface area [km2] | 23,750 |
| Volume [km3] | 284 |
| Maximum depth [m] | 36.0 |
| Mean depth [m] | 12.0 |
| Water level | Unregulated |
| Length of shoreline [km] | 1,750 |
| Residence time [yr] | 2.9-4.3 |
| Catchment area [km2] | 953,250 |
D. PHYSIOGRAPHIC FEATURES
D1 GEOGRAPHICAL
Bathymetric map: Fig. NAM-08-0l. Names of main islands: Reindeer, Berens, Black and Helca (2). Number of outflowing rivers and channels (name): 1 (Nelson R.).
D2 CLIMATIC
Climatic data at Winnipeg, 1931-1960 (3) Mean temp. [deg C]
Jan
Feb
Mar
Apr
May
Jun
Jul
Aug
Sep
Oct
Nov
Dec
Ann.
-17.7
-15.5
-7.9
3.3
11.3
16.5
20.2
18.9
12.8
6.2
-4.8
-12.9
2.5
Precipitation [mm]
Jan
Feb
Mar
Apr
May
Jun
Jul
Aug
Sep
Oct
Nov
Dec
Ann.
26
21
27
30
50
81
69
70
55
37
29
22
517
Number of hours of bright sunshine: 2,177 hr yr-1 (3).
Fig. NAM-08-01
Bathymetric map (1).
Water temperature [deg C](4) Centre of North Basin, 1969
Depth[m]
Apr
May
Jun
Jul
Aug
Sep
Oct
1
-
-
5.9
15.8
-
17.5
10.0
2
0.1
-
-
-
-
-
-
5
-
-
-
-
-
-
10.0
8
0.3
-
-
-
-
-
-
15-17
2.3
-
-
11.0
-
-
10.0
Freezing period: November-March.
E. LAKE WATER QUALITY
E1 TRANSPARENCY [m](1)
The mouths of 5 rivers, 1979*: 0.35-2.0 m. * Middle summer.
E2 pH (4)
Centre of North Basin, 1969
Depth[m]
Apr
May
Jun
Jul
Aug
Sep
Oct
S*
8.1
-
8.1
8.2
-
8.4
8.4

* Surface water.
F. BIOLOGICAL FEATURES
F1 FLORA (5)
Phytoplankton Pediastrum duplex, Closterium acutum, Staurastrum apidulatum, Melosira granulata, Cyclotella meneghiniana, Stephanodiscus astraea, Tabellaria fenestrata, Fragilaria crotonensis, Nitzschia dissipata, Rhodomonas minuta Gymnodinium palustre.
F2 FAUNA (6)
Zooplankton Ceriodaphnia quadrangula, Diaptomus siciloides, D. minutus, D. leptopus, Daphnia schoedleri, D. pulex, D. ambigua, D. parvula. Benthos: Oecetis inconspicua, Molanna flavicornis, Phryganea cinerea. Fish Stizostedion canadense, Coregonus clupeaformis, Perca fluviatilis, Esox lucius, Hiodon alosoides, Acipenser fulvescens, Catostomus catostomus, Morone chrysops, Ambloplities rupestris.
F3 PRIMARY PRODUCTION RATE [mg C m-2 day-1](6)
16.44.
F5 FISHERY PRODUCTS (6)
Annual fish catch [metric tons] 1982-1983: 7,726.
G. SOCIO-ECONOMIC CONDITIONS
G1 LAND USE IN THE CATCHMENT AREA (6)
Area [km2]
[%]
Natural landscape
Woody vegetation
381,000
40
Swamp
95,000
10
Agricultural land
477,000
50
Total
953,000
100
Main types of woody vegetation Pinus banksiana, Larix laricina, Picea mariana, P. canadensis, Carya cordiformis, Tilia americana, Populus deltoides, P. balsamifera, Qvercus macrocarpa. Main kinds of crops: Wheat, oats, barley, rye, flax, sugar beet.
G2 INDUSTRIES IN THE CATCHMENT AREA AND THE LAKE (1)
No. of
No. of
Main products
persons
establish-
or major industries
engaged
ments
Primary industry
Agriculture
N.A.
N.A.
Wheat, oats, sunflower,
apple, vegetables
Livestock-farming
N.A.
N.A.
Cattle, swine, sheep,
poultry
Forestry
N.A.
N.A.
Saw-mill
Secondary industry
Manufacturing
25,000-50,000
N.A.
Paper mill, refineries,
pulp, steel, fabricated
metals, machinery
Mining
5,000-10,000
N.A.
Petroleum,
nickel, gold,
silver, copper
G3 POPULATION IN THE CATCHMENT AREA(1)
1970
Population
Major cities
Population
density [km-2]
(population)
Total
3,859,000
4.0
Winnipeg (560,000),Calgary,
Edmonton
H. LAKE UTILIZATION
H1 LAKE UTILIZATION (6)
Tourism and recreation (swimming, sport-fishing, yachting).
I. DETERIORATION OF LAKE ENVIRONMENTS AND HAZARDS
I3 EUTROPHICATION (1)
Nitrogen and phosphorus loadings to the lake [t yr-1] 1969-1974
Sources
Total
T-N
47,020-108,280
T-P
2,980-10,570
J. WASTEWATER TREATMENTS (6)
J1 GENERATION OF POLLUTANTS IN THE CATCHMENT AREA
c) Limited pollution with wastewater treatments.
J3 SANITARY FACILITIES AND SEWERAGE Municipal and industrial wastewater treatment systems No. of treatment systems: 3 (activated sludge); rate oftreatment 260 m3 day-1.
N. SOURCES OF DATA
Brunskill, G. J., Elliott, S. E. M. & Campbell, P. (1980) Morphometry, Hydrology and Watershed Data Pertinent to the Limnology of Lake Winnipeg. Canadian Manuscript Report of Fisheries & Aquatic Sciences, No. 1556.
John Bartholomew & Son Ltd. (1985) The Times Atlas of the World, Plate 100. Times Books Ltd., London.
Muller, M. J. (1982) Selected Climatic Data for a Global Set of Standard Stations for Vegetation Science. 306 pp. Dr. W. Junk Publishers, The Hague.
Brunskill, G. J., Campbell P. & Elliott, S. E. M. (1979) Temperature, Oxygen, Conductance and Dissolved Major Elements in Lake Winnipeg. Fisheries & Marine Service Manuscript Report, No. 1526.
Killing, H. & Holmgren, S. K. (1970) Data Based on the Lake Winnipeg Cruise 300, June 4-12, 1969. Manuscript Report, 1970.
Hara, T. Personal communication.