LAKE ONTARIO
On the lakeshore at Burlington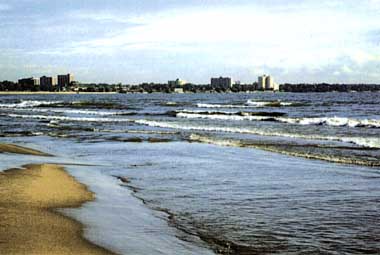 Photo: A. Kurata
A. LOCATION
Ontario, Canada; and New York, USA.
43:2 -44:3 N, 76:5 -79:9 W; 75 m above
sea level.
B. DESCRIPTION
Lake Ontario is the smallest and easternmost of the Great Lakes, covering only 19,099 km2, but is still nearly 30 times the area of L. Biwa. The Lake forms part of the international boundary between Canada and the United States; the whole northern shore belongs to the Canadian Province of Ontario and its southern shore is in the State of New York. Water flows into the lake from L. Erie through the Niagara River with the famous Niagara Falls, and flows out at the northeast end into the St. Lawrence River. There are no large islands in the lake, apart from the far east corner at the entrance to the St. Lawrence River. The most densely populated and industrialized area of Ontario Province is located on the west side of the lake, but there are only a few cities of significant size on the American side.
The eutrophication of the lake started with the increase of population in the lake's drainage basin at the beginning of this century, and continued to advance until around 1973. It has been shown by scientists that the eutrophication of Lakes Ontario, Erie and Michigan is due to the increase in phosphorus loading, of which the main source is sewage effluents and in particular the domestic use of detergents containing phosphorus. After the Canada. U.S. international treaty was signed in 1972 for preventing eutrophication of the Great Lakes, however, the concentration of phosphorus in the lake water is decreasing owing to the prohibition on detergent use and the required treatment of sewage discharged into the drainage basin.
C. PHYSICAL DIMENSIONS (1)
| | |
| --- | --- |
| Surface area [km2] | 19,009 |
| Volume [km3] | 1,638 |
| Maximum depth [m] | 224 |
| Mean depth [m] | 86 |
| Water level | Unregulated |
| Length of shoreline [km] | 1,161 |
| Residence time [yr] | 7.9 |
| Catchment area [km2] | 75,272* |

* Not including the catchments of the four upstream Great Lakes.
D. PHYSIOGRAPHIC FEATURES
D1 GEOGRAPHICAL
Bathymetric map: Fig. NAM-07-01. Number of outflowing rivers and channels (name): 1 (St. Lawrence R.)(Q).
D2 CLIMATIC
Climatic data at Rochester, 1941-1970 (Q) Mean temp. [deg C]
Jan
Feb
Mar
Apr
May
Jun
Jul
Aug
Sep
Oct
Nov
Dec
Ann.
-4.4
-4.0
0.6
7.8
13.6
19.4
21.8
20.7
16.8
11.3
4.7
-2.1
8.8
Precipitation [mm]
Jan
Feb
Mar
Apr
May
Jun
Jul
Aug
Sep
Oct
Nov
Dec
Ann.
63
61
66
66
74
76
79
71
69
71
69
66
828
Number of hours of bright sunshine (1978): 2,392 hr yr-1. Solar radiation (1978): 11.84 MJ m-2 day-1. Snowfall Average depth of maximum snow accumulation: ca. 0.2 m. Period of snowfall (1978): 120 day yr-1.
Fig. NAM-07-01
Bathymetric map (1).
Water temperature [deg C](Q1, 2) 1904-1968
Depth[m]
Jan
Feb
Mar
Apr
May
Jun
Jul
Aug
Sep
Oct
Nov
Dec
S*
2
2
2
4
7
12
19
20
18
13
7
3

* Surface.
Fig. NAM-07-02
Temperature [deg C] at a depth of 20 m, 7-11 September 1976 (after Dobson, 1984).
Freezing period Middle January-early April, 15% ice coverage (rarely freezes over). Notes on water mixing and thermocline formation The thermocline is formed from early June to middle October; a thermal bar forms in middle April to middle June, isolating nearshore from offshore waters.
Fig. NAM-07-03
Temperature profile (32 stations distributed over the lake, 5-11 September 1972)(3).
E. LAKE WATER QUALITY
E1 TRANSPARENCY [m](Q1)
Lake-wide surveys for 15-176 stations, 1979
Depth[m]
Apr
May
Jun
Jul
Aug
Sep
Oct
1.8
3.4
4.2
6.2
5.3
4.9
2.9
E2 pH (Q1)
Lake-wide surveys for 15-176 stations, 1979
Depth[m]
Apr
May
Jun
Jul
Aug
Sep
Oct
7.76
8.25
8.36
7.97
8.20
8.35
8.14
E4 DO: Fig. NAM-07-04.
Fig. NAM-07-04
Depth/season distribution of DO percent saturation [%](4).
E6 CHLOROPHYLL CONCENTRATION [micro g l-1](5) Lake-wide surveys, 1974
Depth[m]
Apr
May
Jun
Jul
Aug
Sep
Oct
Nov
5.7
6.3
5.0
4.8
4.2
5.5
8.8
5.9
Fig. NAM-07-05
Seasonal and annual variation of chlorophyll a and phaeopigments concentrations [micro g l-1] in offshore, near-surf ace waters (cruise-mean values for 1967-1981)(6).
E8 PHOSPHORUS CONCENTRATION: Fig. NAM-07-06.
Fig. NAM-07-06
Seasonal change of soluble reactive P concentration [micro g l-1] in offshore surface water (mean with S.D., 1968-1972)(7).
E10 PAST TRENDS: Fig. NAM-07-07 and 08.
Fig. NAM-07-07
Trend of NO3-N concentration in of offshore, near-surf ace water during March and April (8).
Fig. NAM-07-08
Trend of soluble reactive P concentration in offshore, near-surface waters during March and April; the goal is 6.0 micro g l-1.
F. BIOLOGICAL FEATURES
F1 FLORA
Emerged macrophytes: Typha spp. (Q1). Submerged macrophytes: Potamogeton spp., Myriophyllum spp. (Q1). Phytoplankton (10) Asterionella formosa, Fragilaria crotonesis, Melosira binderana, Navicula sp., Nitzschia palea, Stephanodiscus astrea, Tabellaria fenestrata, Cryptomonas erosa, Ceratium hirundinella, Glenodinium pulvisculus, Aphanizomenon flos- aquae, Oscillatoria limnetica, Ankistrodesmus borgei, Pediastrum simplex, Staurastrum paradoxum, Wothrix subtilissima.
F2 FAUNA (Q1)
Zooplankton Cyclops bicuspidatus thomasi, Daphnia retrocurva, Bosmina longirostris, Tropocyclops prasinus mexicanus, Ceriodaphnia lacustris, Keratella cochlearis, Polyarthra sp. Benthos Pontoporeia affinis, Heterotrissocladius oliveri, Procladius sp., Stylodrilus heringianus, Mysis relicta. Fish Coregonus cupeaformis, Alosa pseudoharengus, Osmerus mordax, Stigostedion vitreum, Morone americana, Perca flavescens, Micropterus dolemieui, Lepomis gibbosus, L. macrochirus, Ictalus nebulosus, Catostomus commersoni.
F3 PRIMARY PRODUCTION RATE (11)
Net primary production rate [mg C m-2 day-1] Whole lake surveys, January-December 1970: 120-1,080.
F5 FISHERY PRODUCTS (Q1)
Annual fish catch* [metric tons] 1975-1981: 1,100-3,500. * Commercial
F7 NOTES ON THE REMARKABLE CHANGES OF BIOTA IN THE LAKE IN RECENT YEARS (Q1)
Between 1923 and 1954 the standing crop of phytoplankton approximately doubled in the waters near Toronto. The dominant algae in the spring pulse changed from Asterionella to Cyclotella and Melosira during this period. Dramatic decline of lake trout (Salvelinus namaycush) and Coregonus spp. to very low levels took place during 1930-1950.
G. SOCIO-ECONOMIC CONDITIONS
G1 LAND USE IN THE CATCHMENT AREA (Q1)
1978
Area [km2]
[%]
Natural landscape
USA
Canada
Total
Woody vegetation
29,422
12,546
41,968
55.8
Herbaceous vegetation
5,387
848
6,235
8.3
align="left"Swamp
Agricultural land
Crop field
4,079
3,877
7,956
10.6
Pasture land
5,262
10,565
15,827
21.0
Residential area
1,553
1,102
2,655
3.5
Others
67
564
631
0.8
Total
45,770
29,502
75,272
100.0
Main types of woody vegetation (Q1) Maple-beech, elm, ash, aspen-birch, spruce-fir (USA); red pine (Pinus resinosa), white pine (P. strobus), Acer spp., Quercus spp., basswood (Tilia americana)(Canada); northern limit of many deciduous broadleaf species. Types of important scrub vegetation (Q1) Staghorn sumach (Rhus typhina), raspberries and blackberries (Rubus), spice bush (Lindera benzoin), climbing rose (Rosa setigera)(Canada). Main kinds of crops (Q1) Vegetables, fruits, grains (USA); maize, winter wheat, spring grain, peach, cherry, plum, apple (Canada).
G2 INDUSTRIES IN THE CATCHMENT AREA AND THE LAKE
USA 1970, Canada 1980-1981
Gross product
No. of
No. of
Main products
per year
persons
establish-
or major
[mill. $]*
engaged
ments
industries
Primary industry
Agriculture
USA
1,003.35
31,677
29,151
Canada
952.44
N.A.
22,374
1)
Fisheries
USA
N.A.
N.A.
N.A.
Canada
1.90
294
N.A.
2)
Others
USA
N.A.
N.A.
N.A.
Canada
185.72
533
17
3)
Secondary industry
Manufacturing
USA
8,255.30
308,787
N.A.
Canada
44,720.70
514,620
7,665
4)
Mining
USA
116.40
3,206
N.A.
Canada
398.06
N.A.
N.A.
5)
Others
USA
N.A.
620,696
N.A.
Canada
7,150.02
110,538
N.A.
6)
* USA data in US$; Canada data in Canada $ (in 1982 US$ 1 = 1.24 Canadian). 1) Vegetables, dairy products, poultry, fruits and cattle. 2) White perch and yellow perch. 3) Saw and planning mill. 4) Machinery, motor vehicles, metal fabrication and primary metal industries (salt, stone, zinc). 5) Cement and stone. 6) Building, engineering and construction.
G3 POPULATION IN THE CATCHMENT AREA (Q1)
USA 1970, Canada 1981
Population
Major cities
Population
density [km-2]
(population)
USA
2,531,700
94.8
Canada
4,604,100
N.A.
Toronto (633,000), Hamilton,
Rochester, St. Catherines
Total
7,135,800
N.A.
H. LAKE UTILIZATION
H1 LAKE UTILIZATION (Q1)
Source of water, navigation, fisheries, tourism and recreation (swimming, sport-fishing, yachting).
H2 THE LAKE AS WATER RESOURCE
1975
Use rate [m3 sec-1]
USA
Canada
Domestic
8.4
17.6
Irrigation
0.6
1.1
Industrial
18.0
56.3
Power plant
101.7
129.4
Others
Mining
2.6
0.3
Rural-stock
N.A.
0.6
I. DETERIORATION OF LAKE ENVIRONMENTS AND HAZARDS
I2 TOXIC CONTAMINATION
Summary and range of concentrations of organic contaminants in Lake Ontario media [ppt]*1 (12)
Chemical
Total DDT
PCBs
Mirex
CBs
Dioxins
Lindane
Raw water
0.3 - 57
5 - 60
0.1
1 - 54
.01 -0.3
0.4 - 11
Bottom
25,000-
110,000-
144,000
11,000-
8000
46,000
sediment
218,000
1,600,000
4,500,000
Benthos
440,000-
470,000-
41,000-
1,088,000
9,000,000
228,000
NA*3
NA
NA
"Suspended"
40,000
600,000-
15,000
574,000
NA
1,000-
sediments
6,000,000
12,000
Plankton
63,000-
110,000-
ND*2-
27,000
NA
12,000
72,000
6,100,000
12,000
Fishes
620,000-
1,378,000-
50,000-
6,000-
5-
2,000-
7,700,000
17,000,000
340,000
370,000
107
360,000
Herring
7,700,000-
41,000,000- 1,800,000-
44-
gull eggs
34,000,000
204,000,000
6,350,000
300,000
1,200
78,000
*1 These values are only of the crudest nature and are not statistical means. Where only one reference existed, the numbers are means, often of widely ranging values. Where a range is given, several sources of data were involved. *2 Not detected. *3 Not analyzed. Toxic metals in surficial sediments [micro g-1](12)
Element
Concentration
As
3.3
Cd
2.5
Cr
48
Cu
50
Pb
106
Hg
0.65
Ni
52
Zn
192
Mean levels of selected contaminants in herring gull eggs [micro g (wet wt.) g-1](12)
Contaminants
1979
1981
1982
DDE
9.0
10
12
PCBs
76
72
64
Mirex
1.8
2.5
3.6
Fig. NAM-07-09
Comparative mean values for whole body contaminant burdens [micro g (wet wt.) g-1] for 3+ aged Coho salmon (Onchorhynchus kisutch) from Lake Erie and Lake Ontario (after Whittle & Fitzimons, 1983).
Fig. NAM-07-10
Distribution of cadmium in surficial bottom sediments (after Thomas and Mudroch, 1979).
Fig. NAM-07-11
Distribution of total PCBs in surface bottom sediments (after Thomas, 1983).
Supplementary notes (Q2) Toxic contamination hazards included the input of toxic inorganic and organic chemicals from municipal point sources, combined sewer overflows, rural and urban nonpoint sources and leachates from municipal and hazardous waste landfill disposal sites. Problems from these sources are most apparent in highly industrialized harbors and embayments and nearby areas.
Fig. NAM-07-12
Areas of concern in Lake Ontario. The International Joint Commission areas of concern include locales where environmental degradation and impairment of beneficial uses is severe and those where some environmental degradation is obvious and where uses may be impaired.
I3 EUTROPHICATION (Q) Nuisance caused by eutrophication Disturbed filtration in cleaning bed. While eutrophication problems are not evident in the open waters, there are local problems near major tributaries. Nitrogen and phosphorus loadings to the lake [t yr-1]
Sources
Industrial
Domestic
Agricultural
Natural
Total
T-N 1967
N.A.
N.A.
N.A.
N.A.
176,000
T-P 1967
N.A.
N.A.
N.A.
N.A.
27,300
1976
102
2,815
3,581
488
11,755*

* Including 4,769 t from upstream lakes.
J. WASTEWATER TREATMENTS
J1 GENERATION OF POLLUTANTS IN THE CATCHMENT AREA
f) Severe pollution with well-developed wastewater treatment.
J3 SANITARY FACILITIES AND SEWERAGE
Municipal wastewater treatment systems No. of secondary and tertiary treatment systems: 95 (USA 51, Canada 44; rate of treatment 6,846,000 m3 day-1).
K. IMPROVEMENT WORKS IN THE LAKE
Kl RESTORATION Multi-billion dollar remedial programs (capital operating) to improve sewage treatment for removal of BOD and phosphorus (to 1 mg l-1) were inaugurated in Canada and the USA in 1970, following a report on pollution in Lake Erie and Ontario undertaken by the International Joint Commission. A regional (Great Lakes) Office of the International Joint Commission was established under the Canada-United States Great Lakes Water Quality Agreement of 1972 in Windsor, Ontario.
M. LEGISLATIVE AND INSTITUTIONAL MEASURES FOR UPGRADING LAKE ENVIRONMENTS
See L. Erie.
N. SOURCES OF DATA
Questionnaire filled by Drs. J. R. Vallentyne and K. Suboch, Canada Centre for Inland Waters, Burlington.
Questionnaire filled by Prof. F. M. D'Itri, Institute of Water Research, Michigan State University, Lansing.
International Joint Commission (1969) Report on Pollution of Lakes Ontario and Erie.
Dobson, H. F. H. (1984) National Water Research Institute, Contribution No. 15, 157 pp.
Dobson, H. F. H. (1972) Unpublished atlas.
Dobson, H. F. H. Unpublished atlas.
Dobson, H. F. H. (1981) Trophic conditions and trends in the Laurentian Great Lakes. Water Quality Bulletin, 6(4): 146-151, 158.
Dobson, H. F. H. (1967-1981) Unpublished atlas.
Dobson, H. F. H. (1968-1981) Unpublished atlas.
Dobson, H. F. H. (1968-1981) Unpublished atlas.
Dobson, H. F. H. (1969-1983) Unpublished atlas.
Munawar, M. & I. F. (1981) A general composition of the taxonomic composition and size analyses of the phytoplankton of the North American Great Lakes. Verh. Internat. Verein. Limnol., 21: 1695-1716.
Vollenweider, R. A., Munawar, M. & Stadelmann, P. (1974) A comparative review of phytoplankton and primary production in the Laurentian Great lakes. J. Fish. Res. Bd. Can., 31 (5): 739-762.
Allan, R. J. (1986) The Role of Particulate Matter in the Fate of Contaminants in Aquatic Ecosystems. Scientific Series No. 142, 128 pp. Inland Waters Directorate, National Water Research Institute, Canada Centre for Inland Waters.
Whittle, D. M. & Fitzsimons, J. D. (1983) J. Great Lakes Res., 9: 295- 302.
Thomas, R. L. & Mudroch, A. (1979) Report to Small Craft Harbours, Ontario Region, December 1979. 149 pp.
Thomas, R. L. (1983) J. Great Lakes Res., 9: 118-124.